Furniture Academy
The Furniture Academy at CVCC prepares students for high demand jobs in the furniture industry.
The Catawba Valley Furniture Academy is an industry-driven training program designed by local furniture manufacturers to prepare students for skilled positions that are in high demand by one of the region's largest employers.
We have two very highly regarded Furniture Academies: Catawba Valley Furniture Academy, which started in 2014 and the Alexander Furniture Academy, which started in the summer of 2016.
Interested in Manual Cutting or Sewing? Find out more about SECU Foundation Bridges to Careers Scholarship Program.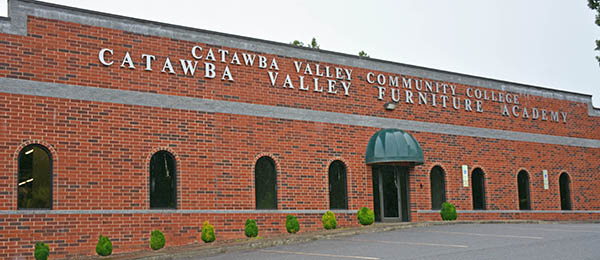 Catawba Valley Furniture Academy - 973 Locust St - Newton, NC 28658
» View Workforce Development Class Schedule for dates.
Founding Industry Partners:
» Century Furniture
» Lee Industries
» Lexington Home Brands
» Sherrill Furniture
» Vanguard Furniture
What does the program provide to its students?
Explore Specific Career Paths: Plant tours, career previews, and assessments help students determine best career options.
Hands-on Training: Students acquire critical skills through hands-on training in our simulated furniture manufacturing facility.
Quality Instruction: Learn from experienced craftsmen from our local industries.
High Pay/High Demand Jobs: Train for lucrative career opportunities today.
The program offers a series of classes including:
Furniture Fundamentals
Pattern Making
Manual Cutting
Automated Cutting
Sewing
Introduction to Upholstery
Spring Up
Inside Upholstery
Outside Upholstery
In the News
» CNBC: Furniture makers see a boom in business, and team up to find workers to meet the demand
» CNBC: Luxury sales slump, it's all about "FANGU", ESG investing and where the furniture jobs are (Skip to 9:00 minutes to see furniture story)
The American Home Furnishings Alliance (AHFA) Furniture Foundation was established in 1948 to fund research and educational initiatives aimed at improving management, manufacturing and marketing within the home furnishings industry. Since 1990, it has distributed more than $4.2 million. The 2020 grants include $15,000 for 60 student scholarships to the Alexander Furniture Academy and $7,000 in scholarships to the Catawba Valley Furniture Academy.
Supporting Partners
American Home Furnishings Alliance
Atlantic Packaging
Autoquip Corporation
Bassett Furniture
City of Newton
CR Laine
Dimension Wood Products
DUO-Fast
Ethan Allen
Fairfield Chair
Fairgrove Furniture
Furniture Foundation
Geiger International
Gerber Technology
Harris Handling

Haworth Health Environments
HBF Textiles
HSM Solutions
Image Industries
Leggett & Platt
NC Works Career Center Catawba
Precedent
Snyder Paper
TCS Designs Inc.
TD Arhaus
Unifour Foundation
United Sewing
Wesley Hall Inc.
Contact Information
For scholarships, candidates must bring either: (1) current US government issued photo ID and birth certificate or (2) passport. This requirement is only for those candidates requesting scholarship assistance.
To find out more about the program, register for the class, and learn about scholarship opportunities, please contact:
Administrative Assistant
Workforce Development Innovation Center
Email: Jennifer Eversole
Phone: 828-327-7000 x4294
Office Number: CDC 123