Small Business Center
Small Business Center at Catawba Valley Community College
When you start up--and grow--a profitable business, you make a positive impact on the economic health of our region. Our job is to provide you with the resources and assistance you need. Your job is to take a chance, and to become an entrepreneur. Our mission is to help new businesses get started and to help existing small businesses expand, increasing the number of businesses and jobs in our community.
Programs and Services
We offer a wide array of programs and services:
One-on-One confidential business counseling to assist you with business planning, licenses and permits, and more. To schedule a confidential counseling session, click here on our Request for Counseling form link.
Guest counselors and advisors who can assist you with social media, marketing, and accounting. 
Workshops/webinars on starting and growing a small business, and programs to assist in with marketing, taxes, funding, bookkeeping and more.  Click here to see our program schedule.
Targeted referral to local and regional partners
Networking events
Ready access to the Small Business Center, the college and community resources
No Fees
The Small Business Center Network is funded through a grant from the state of North Carolina, so counseling services and training seminars are available at no cost.
Location
The Small Business Center is in the CVCC Corporate Development Center which is located between the Main Campus and the East Campus at 2664 Highway 70 in Hickory.
 
Statewide Network of Services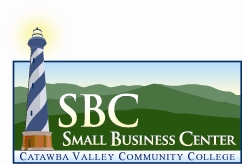 » Small Business Center Network
The Small Business Center at CVCC is one of 58 centers that comprise the Small Business Center Network of the North Carolina Community College System. Each is charged with providing high-quality, readily-accessible information, education, counseling and referrals.
Small Business Centers are funded in part by the local college, in part by local governments, and in part by state tax dollars. The North Carolina Community College System is the parent organization for Small Business Centers. They exist to help you gain access to the knowledge and skills you need to become and remain a successful business owner.

Follow the SBC on Facebook at:

Contact Information
For information and seminar registrations, call:
Jean McAnulty
jmcanulty640@cvcc.edu
(828) 327-7000, ext 4117
Director, Small Business Center
Small Business Center
Email: Chris Reese
Phone: 828-327-7000 x4635
Office Number: CDC 121