Nursing
The Associate Degree in Nursing (A.D.N.) program.
» 2024 Associate Degree Nursing Admission Packet (PDF)
Associate Degree Nursing Program
The Associate Degree Nursing curriculum provides knowledge, skills, and strategies to integrate safety and quality into nursing care, to practice in a dynamic environment, and to meet individual needs which impact health, quality of life, and achievement of potential.
Coursework includes and builds upon the domains of healthcare, nursing practice, and the holistic individual. Content emphasizes the nurse as a member of the interdisciplinary team providing safe, individualized care while employing evidence-based practice, quality improvement, and informatics.
What is the class schedule/length for the Associate Degree in Nursing (ADN) program?
The Associate Degree Nursing program is offered during the day and takes five (5) semesters to complete. Students participate in classroom, laboratory, and clinical experiences throughout the week. Graduates of the program are eligible to take the National Council Licensure Exam (NCLEX-RN). The NC Board of Nursing will review the criminal background checks of each person applying for licensure. Applicants can be denied licensure based on this review. Applicants may take the general education/related coursework for the ADN program prior to acceptance to the program. Please note that taking these courses does not shorten the program length, but it does lighten one's course load each semester after acceptance into the program.  
Costs
Information regarding program costs is located in the Associate Degree Nursing  Admission Packet. 
Financial Aid
All applicants are encouraged to apply for financial aid by completing the Free Application for Federal Student Aid (FAFSA). For information about financial aid, contact the Financial Aid Office.
Other Information
All applicants should access the appropriate Nursing Admission Packet and download it for reference.  It is critical for applicants to read the packet thoroughly and understand its contents. Direct questions to healthcare@cvcc.edu.
Each applicant must submit a completed Minimum Admission Requirements (MAR) Checklist by the published deadline.  Submission of the MAR Checklist indicates an applicant's readiness to be considered for a spot in the nursing program.
Admission into CVCC nursing programs is competitive.
Accreditation
Upon graduation from the program, the student receives the Associate in Applied Science (AAS). The associate's program is fully approved by the North Carolina State Board of Nursing and is accredited by the Accreditation Commission for Education in Nursing (ACEN).
The most recent accreditation decision made by the ACEN Board of Commissioners for the CVCC Associate Degree Nursing Program is Continuing Accreditation.
The Associate Degree nursing program at CVCC located in Hickory, NC is accredited by the Accreditation Commission for Education in Nursing (ACEN). 
Accreditation Commission for Education in Nursing (ACEN)
3390 Peachtree Road NE, Suite 1400
Atlanta, GA 30326
(404) 975-5000
www.acenursing.org
View the public information disclosed by the ACEN regarding this program at the ACEN Program Search webpage (http://www.acenursing.us/accreditedprograms/programsearch.htm).
Program Information
Program Options
Program Options
Associate Degree in Nursing  
Associate Degree Nursing: Hickory Ribbon Articulation
Associate Degree in General Education - Nursing
Please see the "Information tab" for packet information.
Other Information
Associate in General Education-Nursing, AAS (This is not a nursing degree)
Career and College Promise Associate Degree Nursing (ADN) Pathway Certificate
Transfer to a specific state university for a BSN degee
For students who wish to take prerequisites in preparation for application to a competitive BSN program at Appalachian State University, Fayetteville State University, East Carolina University, NC A&T, North Carolina Central University, UNC-G, UNC-P, Western Carolina University or Winston Salem State University, CVCC offers an Associate in General Education – Nursing. Note: This is not a nursing degree; it is a two year Associate in Applied Science degree which includes general education coursework required for a BSN degree at the schools listed above. Again, this is not a nursing degree and no nursing courses are part of this degree.
For high school students interested in dual enrollment for nursing course prerequisites, CVCC offers a Career and College Promise Associate Degree Nursing (ADN) Pathway Certificate. Note: This is not a nursing degree.
Please see the catalog for more information about the degree option in this curriculum.
Related Programs
Information
Information
Admissions Information
Associate Degree Nursing
» 2023 Associate Degree Nursing Admission Packet (PDF)
» ADN MAR Checklist 2023 (PDF)
» ADN Employment Verification Form (PDF) - Coming Soon.
» ADN Admission Packet (Web Version)  
» ADN MAR Checklist (Web Version) 
» ADN Employment Verification Form (Web Version) - Coming Soon.
Documents and Forms
» CVCC Certified Nurse Assistant (CNA) Class Schedule
» Student Medical Forms ( Please do not submit these to CVCC.)
» How to Request Official Transcripts for CVCC
Program Effectiveness Data
ADN Program Completion Rates
Year
NCLEX Pass Rates
Program Completion Rates
2017
97%
50%
2018
97%
50%
2019
88%
50%
2020
100%
62%
2021
78%

Traditional 58%
Bridge 98%
TEAS Test
The Test of Essential Academic Skills (TEAS) test is specifically designed for students interested in nursing and healthcare professions. It was developed by ATI Testing to measure content areas in reading, mathematics, science, English, and language usage. The exam is a 170 item multiple choice format. It is a timed test of 209 minutes, but applicants are encouraged to block out four hours for the exam. The total possible points for the TEAS is a 100 composite score.
How do I schedule a time to take the TEAS test?
Students can view upcoming test dates and times and schedule their test date through the CVCC Testing Center webpage. It is the applicant's responsibility to schedule the TEAS exam. No reminder will be sent to the applicant to complete the exam.
What if I have taken the TEAS test at another testing location and would like to send the scores to CVCC?
How do I do that? Scores for TEAS exams taken at other test sites will only be accepted from ATI. Applicants will need to select TEAS Transcript and must have those scores submitted to CVCC before the program deadline date.
Comprehensive Articulation Agreement
The Comprehensive Articulation Agreement (CAA) allows a student who earns the Associate degree with no grade lower than a "C" to be guaranteed admission to at least one of the UNC system schools as a Junior and make a smooth transition for maximum credit transfer.
Some Associate in Applied Science degrees may transfer in full or in part to a four-year school. CVCC has agreements with certain schools to accept the AAS degree in a 2 + 2 arrangement (subject to change).
Important Note: As always, it is imperative that a student at CVCC should be in full conversation with the senior school before selecting and completing a program of study at CVCC.
Associate Degree in Nursing (ADN) may transfer to Bachelor of Science in Nursing (BSN) as:
Associate Degree Nursing (RN to BSN - RIBN) to Bachelor of Science in Nursing at Lenoir-Rhyne University through the Regionally Increasing Baccalaureate Nurses (RIBN) Program.
Nursing Program
» After College Job Resource Center
ValleySim Hospital
CVCC uses state-of the are facility and equipment. Many of our training services are located and facilitated by the CVCC ValleySim Hospital.
Free Adobe reader is needed to view these (PDF) documents. www.adobe.com.
Associate Degree Nursing: Hickory Ribbon Articulation
Associate Degree Nursing: Hickory RIBBon Articulation
The Hickory RIBN (Regionally Increasing Baccalaureate Nursing) program is a four-year nursing option that will dually admit and enroll students to both Lenoir-Rhyne University and CVCC. This program will provide a seamless Associate Degree in Nursing (ADN) to a Baccalaureate Nursing Degree (BSN) for top academic students who meet RIBN's stringent admissions criteria. Upon successful completion of the first three years at CVCC, students will take their fourth year entirely at Lenoir-Rhyne University. Admission to the program is highly competitive and selective; students will be chosen on the basis of specific academic requirements.
Note: RIBN is not a "fast track" program to earn a BSN degree. It generally takes eight full-time semesters and two summer terms to complete this program. Although Hickory RIBN is designed for graduating high school seniors who enter college to pursue nursing, students who have been notified of an acceptance into the CVCC Nursing program may be eligible to apply to the RIBN program with transfer status. Seats are limited.
To see more information, check out the RIBN Lenoir-Rhyne University program. To access RIBN content, select the RIBN option under Application Types.
For general information related to the profession of nursing, refer to the Bureau of Labor Statistics provided by the US Bureau of Labor.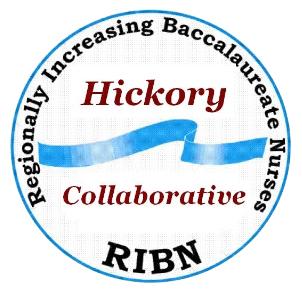 Technical Standards
Technical Standards
Nursing is a career field with cognitive, sensory, affective, and psychomotor performance requirements. The following activities are examples of the kind of activities which a student in the Nursing program will be required to perform in order to successfully complete the program.
Requirements

| Issue | Standard | Example |
| --- | --- | --- |
| Critical Thinking | Nursing student should possess critical thinking ability sufficient for clinical judgment. | Student must be able to identify cause-effect relationships in clinical situations; develop or participate in the development of nursing care plan. |
| Interpersonal Skills | Nursing student shall possess interpersonal abilities sufficient to interact with individuals, families, groups, etc. from a variety of social, emotional, cultural, and intellectual backgrounds. | Student shall establish rapport with clients/patients and health care team members. |
| Communication Skills | Nursing student shall possess communication abilities sufficient for interaction with others in verbal and written form. | Explain treatment procedures, initiate health teaching, document, and interpret nursing actions and client/patient responses. |
| Mobility | Nursing student shall possess physical abilities sufficient to move from room to room and maneuver in small spaces, stand, and walk for extensive periods of time. | Moves around in patients' rooms, work spaces, and treatment areas and administer cardiopulmonary procedures. |
| Motor Skills | Nursing student shall possess gross and fine motor abilities sufficient to provide safe and effective nursing care. | Calibrate and use equipment and position clients/patients. |
| Hearing | Nursing student shall possess auditory ability, sufficient to monitor and assess health needs. | Hear monitor alarms, emergency signals, auscultatory sounds, cries for help. |
| Visual | Nursing student shall possess visual ability sufficient for observation and test necessary in nursing care. | Observe client/patient responses, see calibration of blood pressure equipment, assess patient. |
| Tactile | Nursing student shall possess tactile ability sufficient for physical test. | Perform palpation, functions of physical examination and/or those related to therapeutic intervention, and insertions of catheters. |
| Weight-Bearing | Nursing student shall possess ability to lift and manipulate/move 45-50 pounds, weekly and sometimes daily. | Position clients/patients, move equipment. |
| Cognitive Abilities | Nursing student shall possess ability to be oriented to time, place and person and organize responsibilities, make decisions. | Student shall assess client/patient complaints and implement appropriate. |
| Occupational Exposures | Nursing student may be exposed to communicable disease and/or body fluids, toxic substances, medicinal preparations, latex, and shall use appropriate precautions at all times. | Student may be assigned a patient with a communicable disease and shall provide total care using universal precautions. |
Note: Standards developed by the Board of Directors for the Southern Council of Education for Nursing to assist Nursing Education Programs in compliance with Americans with Disabilities Act.
Please note: Examples are not all inclusive.
If you have a disability and need accommodations, please contact the Counselor/Students with Disabilities Program at least 72 hours in advance at (828) 327-7000, ext. 4222 or accommodations@cvcc.edu
Career Outlook
For questions regarding admissions requirements, contact:
Admissions
healthcare@cvcc.edu
(828) 327-7000, ext. 4216