Sain Named Recipient of Jennifer Haygood Scholarship
Catawba Valley Community College student McKalia Sain has been named the recipient of the Jennifer Haygood Scholarship.
10/21/2020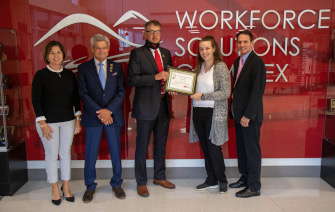 Catawba Valley Community College student McKalia Sain has been named the recipient of the Jennifer Haygood Scholarship.
This $500 one-time scholarship presented to the CVCC Foundation, Inc. through the North Carolina Community Colleges President's Association is presented to a CVCC Accounting and Finance student.
"I am very honored to receive this award," said Sain, who is from Maiden. "Since I was a child, I've grown up serving my community. My favorite community service project I ever participated in was Victory Junction. I made blankets and teddy bears and gave them to kids who are sick and can't afford to go to camp."
Catawba Valley Community College was selected to present the scholarship after a drawing was held on September 16 to determine which North Carolina Community College would give out the award.
The scholarship is named after Jennifer Haygood, who has served in various roles with the North Carolina Community College System since 2008, including interim president from October 2017 to May 2018. She is currently the executive Vice President and Chief of Staff for the Belk Center for Community College Leadership and Research and was recently appointed to Vice President and Chief Financial Officer for the University of North Carolina system.
"The North Carolina Community College System President's Association honored Ms. Jennifer Haygood for her commitment to excellence and service to our system with the naming of a scholarship for an outstanding student," said CVCC President Dr. Garrett Hinshaw. "Catawba Valley Community College was selected to choose the inaugural recipient. Knowing the quality of Ms. Jennifer Haygood and her contributions to our system over the years made it very important for us to find the student that most reflected her outstanding work ethic, commitment to excellence and overall leadership. We found the perfect student and are very proud of McKalia's efforts here at our college."
Christy Lefevers, who advised Sain to apply for the scholarship, is thrilled for her and believes that she is the perfect choice to receive this honor.
"McKalia is a huge inspiration and a wonderful student," Lefevers said. "She is a great representative of CVCC. McKalia has a degree in Photography and Business Administration from CVCC, and now she is coming back to obtain a degree in Accounting and Finance. She is a wonderful representation of how our school of Workforce Development and the Arts join together."
A sophomore at CVCC, Sain is pursuing a degree in Accounting and Finance where she hopes to use her career for the betterment of her community.
Sain is active in the community in fundraising for several charitable organizations, including Christian Ministries Soup Kitchens, Victory Junction, Samaritans Purse, Fostering Faith Foundation and the Make-A-Wish Foundation. 
"During many of the community involvement opportunities I've been a part of I have witnessed countless people in economic distress who can't afford someone to help them with their taxes, finances or just being able to understand the electronic world we live in," Sain said. "I hope that I can make a difference in the lives of many once I acquire my degree. I feel I would be able to provide a much-needed service by bringing this expertise to my community."
A member of the National Technical Honors Society and the National Society of High School Scholars, Sain has also received several educational honors and awards, including with SkillsUSA last year.
She currently is working through an internship with Patio Furniture Industries where she is applying work-based learning opportunities by revamping the company's website through both photography and also incorporating the cost piece through accounting.
"McKalia is a great example of our school because she's combining an Arts degree along with Business and Accounting degrees," Lefevers said. "Skills in business and accounting are necessary for any business to obtain success. We are really excited to give this award to McKalia and recognize her. I'm extremely proud of her."
# # #