Ribbon cutting ceremony held for Manufacturing Solutions Center II, uplifting of MSC I
CONOVER, N.C. — Catawba Valley Community College and the city of Conover celebrated the public opening of the Manufacturing Solutions Center II and renovation of MSC I during a special ribbon cutting ceremony held on Thursday.
04/05/2023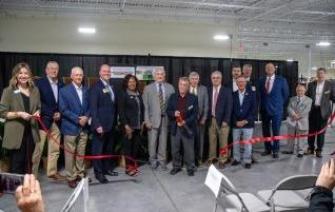 The MSC at Catawba Valley Community College supports US manufacturing through product development, product testing, and other services designed to create and retain US manufacturing jobs. The Center also has an on-site incubator for manufacturing start-ups. 
"We're building something special here, and we've got to make sure that we're telling this story loudly," said CVCC President Dr. Garrett Hinshaw. "Partnership is our secret sauce. When we partner, great things happen. We've got to continue that momentum. We've got to continue to work together to ensure that this is not just a place that is sustained, but it's a place that grows and is vibrant. We recognize all the assets in this whole region, and we leverage those assets to make a difference for the future and the people who are to come behind us."
The new 75,000-square foot space for MSC II, including a $3 million 45,000-square foot private sector funded factory floorspace by Ingram Walters and his investment group Whiskbroom for MSC's graduated incubator clients. 
Walters credited MSC Special Projects Director Tony Whitener and former director of the Manufacturing Solutions Center Dan St. Louis for their work, which has led to MSC I and II.
"What jumped out immediately about these two was the confidence about them," Walters said of St. Louis and Whitener. "They had a confidence and a certainty about them that was contagious. That's what's led to their success and that's what led to us being here. This project ran into the ditch several times — more than once — and every time it did get off track, the way it got back on was by Tony Whitener and Dan (St. Louis). We really owe all of this to those guys. I can say without the fear of contradiction that this building would not be here without the efforts of Tony and Dan."
Jeff Neuville, current director of the Manufacturing Solutions Center, spoke before the ribbon cutting about the impact that the MSC has on Catawba County, the state of North Carolina and the United States, including a $30 million positive economic impact attributed to MSC assistance by its customers in the past four years.
"A project like this does not happen unless there is really an unshakable confidence that an organization can pull it off," Neuville said. "Our staff has proven it over 30 years that they are here for the right reasons and supporting US manufacturers, assisting customers and providing top-notch customer service."
According to Neuville, 234 jobs have been created or retained by the MSC since 2019 with 973 unique customers and clients from North and 3,231 unique clients across the country from all 50 states.
"We are confident the positive economic impact that are going to come from this campus are going to have a lasting positive effect locally as well as across North Carolina and our country," said Conover Mayor Kyle Hayman. "We're so proud and thankful to have reached this point in the evolution of what is now the campus of the Manufacturing Solutions Center at Conover Station."
A total of $9 million was appropriated from the North Carolina General Assembly to the city of Conover to provide this new two-story space and a renovation of the current Manufacturing Solutions Center.
"When you ask for the kind of money we ask for to do this it's an act of faith," said Rep. Jay Adams of Catawba County. "You are putting yourself on that line when you ask for nine million dollars, but I was confident that the people that this money would go to would produce this kind of a result. I'm so proud of what this facility is."
Included in MSC II are labs for PPE Resource Textile, Prototyping and Fabric Formation, a Structural Engineering Testing Area and a Best Practices Cut & Sew Line. There is also a state-of-the-art conference area and meeting room, which can be used for both trade and industry meetings.
Four companies that graduated from the MSC business incubator now reside in the portion of MSC II owned by Whiskbroom.
MSC I renovations included a larger lab space and a personal protective equipment (PPE) Testing and Product Development space, which is being utilized to test and produce effect masks, gowns and other PPE.
"It is a great day in my hometown, it is a great day in Catawba County and a great day in the state of North Carolina," said Lindsay Keisler, President and CEO of the Catawba County Chamber of Commerce. "Our region is flush with entrepreneurial assets, but this is the crown jewel — the Manufacturing Solutions Center is the crown jewel."
During the ribbon cutting ceremony, Whitener was honored and presented with a a sign that includes pictures of Whitener during various stages of the development of the MSC II.
For more information on the Manufacturing Solutions Center, visit www.manufacturingsolutionscenter.org or contact Neuville at 828-327-7000 ext. 4102 or email jneuville@cvcc.edu.
# # #