Catawba Valley Community College students will have guaranteed admission to WCU
CULLOWEE, N.C. — Students from Catawba Valley Community College will be guaranteed admission to Western Carolina University after Chancellor Kelli R. Brown and Garrett Hinshaw, president of Catawba Valley Community College, met Wednesday, Jan. 25, to sign a memorandum of understanding between the two institutions.
01/26/2023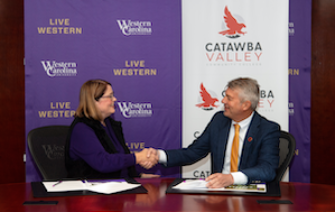 The memorandum is part of the Catamount Connection Program, who's purpose is to create a direct pathway for CVCC graduates to acquire an affordable and accessible four-year degree from WCU.
"I'm extremely excited for the memorandum of understanding that we are signing with Western Carolina University," Hinshaw said. "This gives a wonderful pathway for the students who move through our system into the university setting."
Brown said she is committed to ensuring the viability of Western for CVCC graduates. 
"I, personally, am a community college graduate. So, I feel very strongly about having strong articulation," Brown said. "This program gives that student like myself the ability to see accessibility to a four-year university." 
Hinshaw also recognized the regional impact of the program.
"It really shows our citizenry here in Western North Carolina that there are pathways," Hinshaw said. "I think it's a mutually beneficial agreement that will boost success in our region and community through the success of our students." 
Students who wish to participate in the Catamount Connection Program must satisfy the following conditions:
●     Be a currently enrolled student at CVCC in a degree-seeking capacity 
●     Submit WCU application for admission and records by WCU deadlines
●     Submit application fee or waiver and fulfill all commitment action steps
●     Be in good standing at CVCC and other institutions attended 
●     Demonstrate good citizenship and conduct
●     Earn and maintain a minimum cumulative GPA of 2.50 at CVCC and a minimum GPA of 2.20 in their most recent term
●     Earn an associate's degree from CVCC in a college transfer program or in an applied program for which an articulation agreement exists
●     Enroll at WCU within one academic year (within the next two regular terms [fall/spring semesters] of completion of the associate's degree). 
For more information about how to transfer to WCU, visit https://www.wcu.edu/apply/undergraduate-admissions/transfer-students/index.aspx
For more information about applying to Catawba Valley Community College, visit https://www.cvcc.edu/Academic-Resources/Admissions/Apply-Now.cfm
PHOTO: WCU Chancellor Kelli Brown (left) and Catawba Valley Community College President Garrett Hinshaw sign a memorandum of understanding Wednesday, Jan. 25, guaranteeing admission of CVCC students into WCU after meeting certain requirements
# # #