Catawba Valley Community College hosting Open House event on March 25
HICKORY, N.C. — Catawba Valley Community College is hosting a 'Ready Set Soar' Open House event on Saturday, March 25 from 8:30 a.m. until 1 p.m.
03/02/2023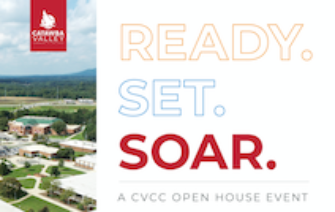 Those attending the Open House will meet all of CVCC's Programs of Study leaders, take a campus tour and attend breakout sessions on topics like financial aid, disability services, athletics and student clubs.
There will also be a Food Truck Rodeo so attendees can grab lunch during the day.
The first 500 attendees to register will receive a free T-shirt. 
Prospective students and their family members should check in between 8:30 a.m. and 9:30 a.m. on March 25 at the CVCC Tarlton Complex.
For more information on the 'Ready Set Soar' CVCC Open House and to register, visit bit.ly/redhawkopenhouse
# # #