Catawba Apprenticeship Network holds Graduation
6 graduates and 45 signees attend Catawba Apprenticeship Network ceremony.
10/05/2023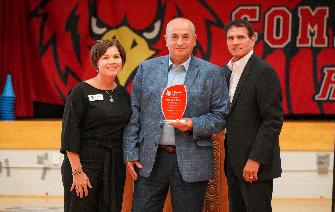 HICKORY, N.C.—On Monday, October 2nd, CVCC 's Catawba Apprenticeship Network (CAN) recognized six graduates and 45 new apprentices during a ceremony at the Tarlton Complex.
The six graduates included Will Johnson, who completed an apprenticeship with Corning; Dustin Ware, who completed an apprenticeship with GKN; Kayla Hinson, who completed an apprenticeship with Poppelmann; Jake Speagle, who completed an apprenticeship with Poppelmann; Connor Baer, who completed an apprenticeship with Sarstedt; and Gerhardt Rheeder, who completed an apprenticeship with Sarstedt.
After the recognition of the graduates, 45 new Apprentices signed to enter the program with the following companies: Tires Plus Tire Pros; Momentum Car Care; Cloninger Ford; Paramount; Modern Nissan Poppelmann; Sherrill Furniture; Sarstedt; GKN; UN Conec; Corning; ZF; Hickory Police Department; Newton Conover Schools; and Lee Boy.
This is the largest number of signees in a single semester since the Catawba Apprenticeship Network was established, nine years ago.
One of the evening's featured guests was Mr. Peter Rumswinkel of Sarstedt, Inc. The college both recognized and expressed their deep appreciation for Rumswinkel's outstanding contributions to the Catawba Apprenticeship Network, as Sarstedt has been an active supporter from the beginning.
"I'm so excited to see everybody here…I want to congratulate our apprentices that have graduated, and I want to tell you, this is only the start," Rumswinkel shared with graduates. " I know that you are happy because you have your degree, but it is a lifelong journey, and I wish you all the best, and success, to continue your education and to grow within your organization."
Another featured guest and long-standing CAN partner was JD Abee, of Cloninger Ford. Abee was quick to remark on the past success of the partnership as well as the excitement for the future. "It has been a journey that I look back on, and say, 'we should have done this a lot sooner'," said. Abee. "I look forward to continuing our partnership down the road."
"In the world of apprenticeship, learning extends far beyond the classroom or workplace," says Christy Lefevers, CVCC Associate Dean for Workforce Connectivity and CAN Director. "It extends into the hearts and minds of supervisors, mentors, and peers. These relationships have been, and will continue to be, the true cornerstone of the Catawba Apprenticeship Network."
All students who participate in CVCC's Catawba Apprenticeship network have the potential to receive a full scholarship while earning their 2-year Associate's Degree, plus guaranteed employment with their apprentice company based on successful completion of the program. For more information, contact Christy Lefevers at clefevers@cvcc.edu.
Pictured Above (L-R): Christy Lefevers, Peter Rumswinkel, and Gary Muller present Rumswinkel with CAN Recognition.
# # #