CVCC student Bruckmann named finalist in national competition
Catawba Valley Community College Advertising and Graphic Design student Jamie Bruckmann was named a top-10 finalist in the 2021 Adobe Certified Associate (ACA) National Championship competition.
07/14/2021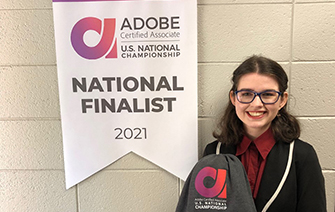 Bruckmann competed against more than 44,000 students and more than 60,000 designs to earn her top-10 national placement. She is the first CVCC Advertising and Graphic Design student to participate in the competition, which involves both a combination of design and technical skills.
"To be a top finalist out of 60,000 design entries is an amazing feat," said Jennifer Cobb, Director of Advertising and Graphic Design at CVCC. "Jamie is a wonderful student, and she's demonstrated so much professionalism and leadership in our program. We knew she had the ability to be a big competitor in this. I am so impressed by her courage to enter the competition. I don't know that I would have had the same courage to enter when I was a student."
The competition, which was open to students ages 13 to 22, required each student to be certified in Adobe Photoshop, Illustrator or InDesign and design a project created in one or more of the Adobe programs, including Photoshop, Illustrator or InDesign. 
Utilizing a project she created in her Graphic Design II course at CVCC, Bruckmann chose to rebrand an existing event or festival in North Carolina — selecting Hart Square in Vale. 
Bruckmann used all three Adobe programs, which she earned certification in because of her courses at CVCC, and crafted rebranded primary and secondary logos for Hart Square with Adobe Illustrator, showed this concept through a printed booklet using Adobe InDesign and showcased what her logo concept would look like on merchandise through Adobe Photoshop.
Not knowing the vast array of designs and competitions she was up against, Bruckmann didn't know what to expect.
"The fact that it was the first time anyone had submitted for it, there were no expectations," she said. "With the support and guidance of my instructors, I was excited to put this together."
Advertising and Graphic Design instructor Aaron Tallman was also unsure of just how Bruckmann would do given this was the first time a CVCC student had submitted for it.
"With us having no prior entries in the competition, we didn't know what to expect," he said. "We didn't know the scope of the competition other than the fact that it was a national competition. When she shared with us that she had placed in this national competition, it was an amazing feeling."
Much to her surprise, Bruckmann received an email in June announcing that she was either a top-three runner up or one of the top-10 finalists for the competition and that her name would be announced during Adobe's virtual awards ceremony.
"I was blown away. I was speechless," Bruckmann said. "I was screaming, jumping up and down and dancing. I am so excited. It feels like someone just gave me a shot of electricity. I'm buzzing and generally excited. This is big."
Cobb was thrilled when Bruckmann shared the email news with her.
"When she sent us the email that said she was a finalist, we were ecstatic," Cobb said. "We were proud. It's hard to explain the feeling we had in being so proud of one of our own."
Even more impressive than Bruckmann's national finish was her determination to finish her finals and complete her final class projects in the spring while also submitting for the competition during the same time.
"Our Advertising and Graphic program is very rigorous," Cobb said. "We have high expectations. We challenge the students to raise to this bar of excellence. Jamie hit that bar of excellence and went beyond it. This validates all of those hours of work."
Bruckmann, who also works with Redhawk Publications on campus, is thankful to her instructors for motivating her to not only apply for the competition, but also in nurturing her as a student.
"I thank Mrs. Cobb and Mr. Tallman for encouraging me and giving me feedback and guidance. They are wonderful teachers. They excel at encouraging us and helping us grow."
Tallman believes the sky is the limit for Bruckmann now that she's made history at CVCC, and her success has opened the door for future Red Hawk Advertising and Graphic Design students to walk through.
"It's an accomplishment all on its own to be a first-year student placing nationally," Tallman said. "Because of Jamie's willingness to compete and her placement, she is going to inspire her classmates and the next generations coming into the program to compete and try as well. She's served as a role model in that capacity."
# # #