CVCC's new Supply Chain Management Academy starting on Feb. 28
HICKORY, N.C. — The Catawba Valley Community College Corporate Development Center announces its new Supply Chain Management Academy, which starts on Feb. 28.
02/07/2023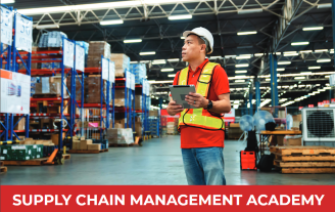 This 16-week course, which finishes on June 15, will provide the foundation and skills necessary to start or advance a Supply Chain Management career. 
"We are excited about kicking off our new supply chain management Academy on February 28," said Gary Muller, CVCC's Executive Dean for Economic Development and Corporate Education. "We have worked very closely with our business and community partners to build this program, and we are confident that it will provide a strong foundation for someone wanting to pursue or advance their career in Supply Chain Management and Logistics."
The Supply Chain Management program integrates local business tours, guest speakers, case studies and engaging discussion to introduce participants to the complex, dynamic world of Supply Chain Management and Logistics. 
Upon successful completion of the course, participants will receive a Supply Chain Management Certificate from CVCC.
Module topics discussed during the academy include an Orientation, an Overview of Logistics, Logistics and Information Technology, Strategic and Financial Logistics, Organizational and Managerial Issues in Logistics, the Supply Chain Management Concept, Procurement, Demand Management, Order Management and Customer Service, Inventory Management, Facility Locations, Warehousing Management, Packaging and Materials Handling, Transportation, Transportation Management, International Logistics, Lean Management and Project Management.
Pre-registration and pre-payment are required for the Supply Chain Management Academy.
For more information or to register for the Supply Chain Management Academy, please contact Susan Blake, CVCC Director of Business Services, at 828-327-7000 ext. 4330 or email sblake@cvcc.edu.
# # #