CVCC's SkillsUSA program receives proclamation from the city of Hickory
HICKORY, N.C. — The Catawba Valley Community College SkillsUSA program recently received a proclamation from the city of Hickory, which recognizes Feb. 6-10, 2023 as CVCC SkillsUSA week.
03/14/2023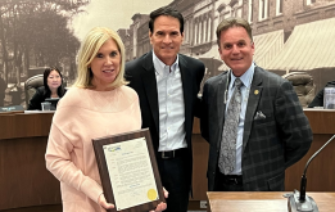 Hickory Mayor Hank Guess presented the proclamation to Tammy Muller, Executive Director for SkillsUSA at CVCC and Gary Muller, Executive Dean of Economic Development and Corporate Education for CVCC.
"It was a great honor to receive Hickory City Council's proclamation recognizing February 6 through 10, 2023 as CVCC SkillsUSA Week," said Tammy Muller, CVCC Executive Director, Strategic Business Partnerships and SkillsUSA . "Our Skills USA program has received so much support from our community over the years."
National SkillsUSA Week is also Feb. 6-10 and this year's theme is "Our Time is Now," which implies that members have both the tools and the confidence to take on further education or employment in their career field. 
During SkillsUSA Week, CVCC's SkillsUSA students recognized the efforts of their college's administration and their faculty advisors by sending appreciation cards, emails, voicemails and making face-to-face visits.
As part of "Give Back Tuesday," SkillsUSA students and advisors completed their canned food drive for the Hickory Soup Kitchen and delivered more than 600 canned food items to Austin Pearce, who is executive director of the Hickory Soup Kitchen.
The CVCC SkillsUSA has been recognized as a National SkillsUSA Model of Excellence for six straight years. CVCC is the only chapter ever to be recognized six years in a row. The Model of Excellence recognizes the exceptional integration of personal, workplace and technical skills into SkillsUSA activities.
Catawba Valley Community College also won nine national medals at the National Conference held in this past June in Atlanta, and it has won 70 national medals during the past 10 years.
"CVCC's SkillsUSA program is such an important part of everything we do at the college," Muller said. "Our faculty advisors have imbedded the SkillsUSA framework elements into their classrooms, so students see the importance of being a part of SkillsUSA."
For more information about the CVCC SkillsUSA program, contact Tammy Muller at 828-327-7000 ext. 4323 or email tmuller@cvcc.edu.
# # #