CVCC honors past, present and future at Black History Celebration
HICKORY, N.C. — Catawba Valley Community College shined a spotlight on past, present and future African-American leaders on its campus during the 20th Annual Black History Celebration held Tuesday at the college's East Wing Auditorium.
03/02/2023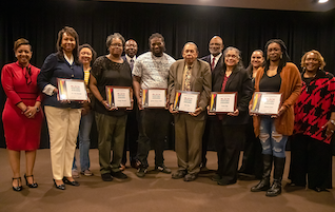 It was the first face-to-face Black History Celebration held on campus since the COVID-19 pandemic.
"Here at CVCC we just don't celebrate Black History on one night, but we have celebrated it all month long — from social media posts, podcasts, interviews, institutional topics and professional development," said Dr. Felicia Simmons, Vice President of Diversity and Engagement. "We celebrate all day and all year long. We won't stop celebrating after this evening. We at CVCC acknowledge and recognize not just Black History, but all Diversity and Equity, and practice Inclusivity throughout the year to ensure that everyone feels valued."
Two African-American leaders from each of Catawba Valley Community College's past, present and future were honored during the ceremony. A video interview was shown of each honoree, and each person was presented with a special plaque.
Sam Hunt — one of CVCC's first African-American students — and Dr. Iris Barrett, who was the first female African-American to serve on the CVCC Board of Trustees, were both honored as two of CVCC's past African-American past leaders.
"We believe in acknowledging the trailblazers," said Dr. Johnny Scott, Minority Community Liaison of Diversity & Engagement. "They took part in history at CVCC or came to CVCC. It probably wasn't the safe thing to do, but they came nonetheless. We want to acknowledge the history and the memory of those who were here in the past, acknowledge the history makers of those who are here now and acknowledge our future history as well."
Two long tenured CVCC employees — Carolyn Brandon, Director of Scholarships & Financial Aid, and Teresa Ray, Director of Career Advising — represented the present African-American leaders on CVCC's campus.
"To our present, we thank you," Dr. Simmons said of Brandon and Ray. "We value you and we appreciate all of you. We thank you for what you do for not only our students, but for our faculty and our staff and even the parents. We say thank you."
Current CVCC students Latasia Gross and Jerron Turner-Clark were honored for representing the future of African-American leaders from CVCC's campus.
Gross is a U.S. Military veteran and Student Leadership Academy member who plans to study law after graduating from CVCC, while Turner-Clark is a Computer-Integrated Machining student and president of CVCC's Minority Males on the Move (M3) Club.
"To our future, what a bright shining star that you are to all of us," Dr. Simmons said. "We look forward to seeing you flourish. We look forward to seeing great things in you. We thank all of our award recipients."
Tuesday's ceremony also included the singing of the musical selection "Lift Every Voice and Sing" and a performance from CVCC student Dior Scott.
For more information on the Officer of Diversity and Engagement at CVCC, please visit https://cvcc.edu/About_Us/Diversity_and_Engagement/index.cfm
# # #