CVCC honors 818 students during 2023 Commencement Ceremony
The crowning moment for many Catawba Valley Community College students took place on Friday during the college's spring graduation ceremonies held at the Tarlton Complex on main campus.
05/16/2023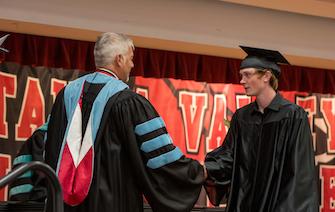 A total of 818 CVCC students received either an associates degree, diploma or adult secondary credential with 512 of those walking during Friday's ceremonies, which started at 9 a.m. and continued until 4 p.m.
Canyon Echerd was the first of those students to walk across the graduation stage on Friday, receiving an Electrical Systems Technology diploma.
As a dual enrolled student at CVCC and Challenger High School, Echerd received his associates degree before his high school graduation took place.
"I've worked hard for this," Echerd said. "It took me two years to get this diploma, and I'll get another in three weeks. This puts me at an advantage to get in the workforce and be able to start my career and future."
Friday's graduation was extra special for Marcus Sigmon, whose father Mark — CVCC's Department Head of Welding Technology — presented Marcus with his Welding Technology degree.
"It makes it a lot more special," Marcus Sigmon said. "He's the one who really put me on this path and pushed me to do my best. I wouldn't have any of this if it weren't for him."
For some, like Tiffanie Pinion, CVCC's Commencement was the culmination of years of hard work. Pinion was excited to walk across the stage, obtain her Associate in Arts degree, and begin the next chapter at Appalachian State University, where she will study Elementary Education.
"I've been working towards graduating for like 15 years. This has been a long journey," Pinion said. "I have a 7-year-old child, and this will help me help him become a better person in his life."
This year, CVCC President's Award recipient was Bradley Jamison. Along with this accomplishment, Jamison was also a finalist for the Governor Robert W. Scott Leadership Award through the North Carolina Community College System. He received three degrees during Friday's ceremonies, including an Associate in Arts, Associate in Business Administration and Associate in General Education along with three Business Administration certificates.
"CVCC has helped me achieve goals beyond my imagination," Jamison said. 'It was a lot of hard work and late nights, but that hard work paid off today. This is the most accomplished I've felt in my whole life. This moment paves the way for the rest of my future."
After receiving their degrees and taking pictures with their family and friends, CVCC graduates had the chance to meet more than 30 business and industry partners at recruitment booths outside of the Tarlton Complex —setting them on their course for their career.
"Graduation is that special time of year when we celebrate the accomplishments of our students and the impact they will have on our community," said CVCC President Dr. Garrett Hinshaw. "A lot of people may not realize that most of our graduates stay here and live here. Over the past seventeen years, I have had the opportunity to shake a lot of hands that are real heroes in our region today."
# # #