CVCC SkillsUSA chapter sets new record with 52 state competition medals
The Catawba Valley Community College SkillsUSA chapter won 52 competition medals during the 2023 SkillsUSA State Conference, which was held this past weekend in Greensboro.
04/27/2023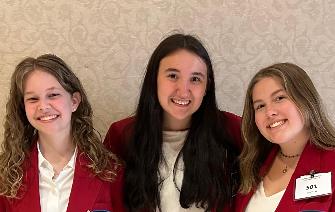 HICKORY, N.C. — The previous record for SkillsUSA medals at Catawba Valley Community College was 51 set last spring.
"Last week's SkillsUSA State Conference greatly impacted our students and advisors alike," said Tammy Muller, Executive Director, Strategic Business Partnerships and SkillsUSA. "SkillsUSA is life changing for our students. Perhaps the most significant aspect of success is putting in the time, along with taking advantage of opportunities presented. Our students learned that when they work hard and follow their advisor's guidance, they can accomplish things they never thought possible, which will give them confidence and open doors to future opportunities."
Of the competition medals won by CVCC, 14 were gold, eight were silver, four were bronze, four were fourth place and five were fifth place.
A total of 80 students representing Catawba Valley Community College and CVCC's Career & College Promise (CCP) program participated in the event in 24 categories.
Taking home gold medals were Scott Westmoreland (Advertising Design); Katherine Cabrera and Chloe Sawyer (Digital Cinema Production); Colin Keating and Gabriel Marks (Engineering Technology & Design); Joseph Fullen (Job Skill Demonstration - A); James Bevel and Dakota London (Mobile Robotics); Giovana Callejas-Uribe and Emily Escamilla-Diaz (Nail Care); Britney Sermon (Photography); Suzanna Maxwell (Pin Design); Claire Greene, Emma Maltba and Rosemary Moua (Promotional Bulletin Board); Evanna Danley and Angel Walters (Robotics: Urban Search and Rescue); Benjamin Campbell (Screen Printing); and Stella Hughes (T-Shirt Design).
Silver medal winners included Luis Gonzalez (Advertising Design); Brandon Fox (CNC Turning Specialist); Canyon Echerd (Electrical Construction Wiring); Jadon Spencer (Marine Service Technology); Christopher Galan-Duran (Medical Math); Antrenece Crockett, Dallas Hicks, Jacob Moore, Khanh Nguyen, Dhyan Patel, Mackenzie Pedicino and Emma Travis (Quiz Bowl); Joshua Rodriguez (Screen Printing); and Luke Reynolds (T-Shirt Design).
Receiving bronze medals were Riley Land and Phiona Patel (Debate); Rance Smith (Electrical Construction Wiring); Jesse Bandy (Marine Service Technology); and Zibntaab Txakeeyang and Selene Barr (Nail Care).
Fourth-place medal winners included Kislev Perez-Gutirrez (CNC Milling Specialist); Tristan Buff (CNC Technician); Brayden Shook (Electrical Construction Wiring); and Devin McCall (Welding).
Students earning fifth-place honors included David Huffman (Automotive Service Technology); Patrick Welch (CNC Technician); Elizabeth Campbell (CNC Milling Specialist); Jesse Anderson (Electrical Construction Wiring); and Emma Kautz and Micah Vang (Robotics: Urban Search & Rescue).
Overall, Catawba Valley Community College received a gold medal for SkillsUSA Outstanding Chapter, which was presented by Lauren Land, Makala Pitman and Charlotte Zimmerman. CVCC also received the Model of Excellence chapter recognition.
"All of us at CVCC are so proud of our SkillsUSA students and advisors for their outstanding performance at the 2023 North Carolina SkillsUSA Championships," said Gary Muller, CVCC Executive Dean for Economic Development and Corporate Education. "We had students from academic programs all across our campus from Advertising and Graphic Design to Engineering to Welding winning medals. We are also very proud that our college was recognized as a National Gold Chapter of Excellence and the state's Outstanding Chapter for the tenth year in a row. These awards recognize chapters for their community service activities, business partnerships, professional development programs as well as competition success." 
All gold medal winners qualified for the SkillsUSA National Leadership & Skills Conference, which takes place June 19-24 in Atlanta, Ga.
To learn more about the SkillsUSA program at CVCC, visit https://bit.ly/3gwWnPR or contact Tammy Muller at 828-327-7000 ext. 4323 or email tmuller@cvcc.edu.
# # #