CVCC Foundation Inc. Board Adds Everett, Little As Newest Members
The Catawba Valley Community College Foundation Board Inc. recently added two new members to its Board of Directors.
10/19/2020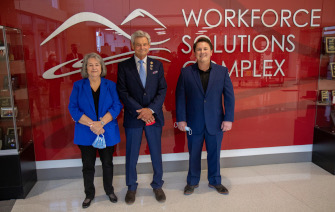 The Catawba Valley Community College Foundation Board Inc. recently added two new members to its Board of Directors.
Mr. David (Dave) Everett and Dr. Dianne Little were elected to the Board of Directors during Thursday's Board meeting held at the Workforce Solutions Complex.
"I am extremely delighted to welcome Dianne and Dave to our Foundation Board of Directors," said David Sain, chairman of CVCC Foundation Board Inc. "Dianne brings a wonderful educational background and as an Alexander County native will be extremely helpful in so many ways. Dianne has a wonderful background in  so many areas of educational experience including working for us at CVCC. Dave Everett's decision to be appointed to our board will continue to be so very supportive of our Workforce Solutions Complex. He is providing financial support and vehicles for our huge 12-bay  Automobile Center for our students."
Everett is an 2009 Appalachian State University alumnus with a degree in Pre-Professional Legal Studies. He currently serves as the Vice President of Everett Chevrolet Buick GMC Cadillac. 
A lifetime member of Corinth Reformed Church, Everett has been a member at LHCC since 2010, he serves on the Membership committee, Legacy Giving and Board of Directors. Board of Directors member for Operation WakeSurf a charity supporting Veterans and first responders. Mr. Everett enjoys, golf, hunting, fishing, dogs, surfing, snow skiing, traveling, and exercising. 
Little has spent more than 40 years as a professional educator, including time as a classroom teacher, high school administrator and college instructor and administrator. She recently retired from Catawba Valley Community College, where she served as the director of the Phillips Leadership Institute, which provided intensive leadership training for faculty and staff, supervisors and students in separate academies. 
Prior to assuming those roles, Dr. Little served as the director of the Catawba Valley MagnIT, College Tech Prep and Homegrown Teaching Scholars programs at CVCC and later as the College Liaison for the Catawba Valley Early College High School. She was an English and Theatre Arts instructor at Alexander Central High School for 23 years and Assistant Principal and Principal of Newton-Conover High School for 6 years.
CVCC Foundation Inc.'s mission is to foster and promote the growth, progress, and general welfare of CVCC.
Through various endowments, the CVCC Foundation Inc. helps to provide more than 100 scholarships each year to students at Catawba Valley Community College to help enrich student's education experiences at the college.
To learn more about CVCC Foundation Inc. or to donate, please visit the CVCC Foundation Inc. webpage or contact Teresa Biggs, Executive Director of the CVCC Foundation, Inc., at (828) 327-7000, ext. 4288 or tbiggs@cvcc.edu.
# # #