CVCC, Cloninger Automotive partnership helps students receive Ford training
HICKORY, N.C. — A new partnership between Catawba Valley Community College and Cloninger Automotive Group will allow automotive students at CVCC to receive training to become a Ford Certified Technician.
02/16/2023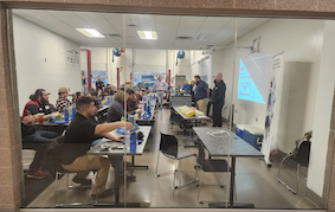 The Ford ACE training program at CVCC gives students the opportunity to take web-based Factory Ford Training — the same training that technicians employed at Ford and Lincoln dealers receive. The courses are updated on a regular basis with new technology and new vehicle release information.
"We at CVCC are very excited about our new partnership with Cloninger Auto Group," said Aden Cranford, CVCC's Dean of Career and Technical Education. "Their organization shares similar values to ours in terms of understanding the importance of relationships in achieving both high quality education and valuable work placement opportunities. Both organizations support lifelong learning and strive to achieve excellence in our daily interactions."
The Ford ACE program is an excellent opportunity for our students to receive manufacturer level training while enrolled at CVCC. The ACE program contains 65 training modules covering the eight major systems of the automobile. 
"While this training will certainly benefit any student who chooses to participate, it will benefit students who are looking to work at a Ford or Lincoln dealer the most as they will have a substantial head start on their required training to becoming a Ford Certified Master Technician," said Shawn Mull,  Department Head for CVCC Automotive Systems Technology.
Any CVCC Automotive student is eligible for this program, and currently 26 students have signed up so far.
The partnership between Catawba Valley Community College and Cloninger Auto Group will not only provide training for the student but also open career opportunities as well. 
As an extra incentive, the first student that completes all of the web-based Training in Ford ACE will be the winner of a toolbox and industry-required tools valued at approximately $6,000 donated by Cloninger Automotive Group.
For more information on the Automotive Systems Technology program or the Ford ACE training program at Catawba Valley Community College, please visit http://bit.ly/3jAwYtT or contact Mull at smull@cvcc.edu or call 828-327-7000 ext. 4209.
# # #