CVCC Alexander Center holds Computer Literacy graduation
TAYLORSVILLE, N.C. — The Catawba Valley Community College Alexander Center recently held its graduation for Computer Literacy of the Workplace courses.
11/02/2022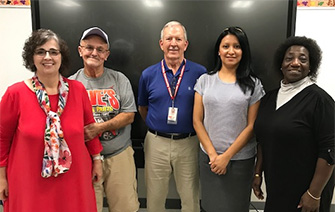 These courses ran Aug. 2 through Sept. 27. Techniques taught in the course included Microsoft Excel, Word and PowerPoint; creating a resume and cover letter; connecting with employers on Gmail; creating documents on Google Drive; developing social networking skills; and learning skills to find and keep a job.
This semester's graduating class included Debra Fox, Richard Fox, Bruce Loyer, Guadalupe Ocampo-Corrales and Wanda Howell. 
For more information on CVCC's Alexander Center or to enroll in the next courses, please contact Sharon Cox at 828-632-8221 ext. 310 or Tammy Buff at 828-327-7000 ext. 4819.
PHOTO: From left, Debra Fox; Richard Fox; Bruce Loyer, CVCC instructor; Guadalupe Ocampo-Corrales; and Wanda Howell. 
# # #