Multicultural Office Upcoming Events
Multicultural Office Upcoming Events
Catawba Valley Community College invites everyone to attend upcoming events and celebrations.
No events at this time.
Black History Dreamers, Visionaries, and leaders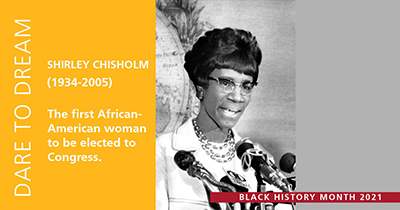 Shirley Chisholm (1924 – 2005)
Shirley Chisholm became the first African-American woman to be elected to Congress. Though Congress is more diverse now, the same cannot be said when she achieved it in the late 60s. She represented New York's 12th District from 1969-1983.
Congresswoman Chisholm was also the first African-American woman to run for the Democratic Party's presidential nomination in 1972. Her campaign slogan was: "Unbought and Unbossed."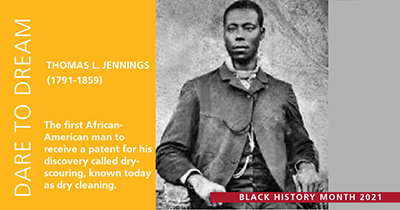 Thomas L Jennings (1791-1859)
Thomas L. Jennings was the first African-American man to receive a patent. He was awarded (US Patent 3306x) on March 3, 1821 for his discovery called dry-scouring, known today as dry cleaning. 
This was quite controversial at that time because slaves were not able to have patents however, Jennings was born free in New York City. He was also an abolitionist and used a portion of the earnings from his invention to free the rest of his family and others.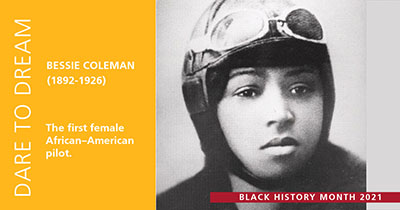 Bessie Coleman: 1892-1926
Bessie Coleman, the first female African-American pilot.
She was born in a one bedroom shack in Texas, Bessie Coleman became the first female African–American pilot. She earned her international pilot's license in France in1921. During a time when there were only a few very wealthy woman pilots, Bessie met opposition for her desire to fly not just because she he was black but also because she was a woman.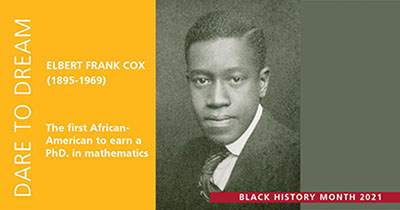 Elbert Cox 1895-1969
Elbert Cox, the first African to earn a PhD. in Mathematics.
He was born in Evansville, Indiana. He became the first African-American to earn a PhD. in mathematic. Elbert Cox taught in the Kentucky public schools system before moving on to teach at Shaw University, West Virginia State University and finally Howard University where he taught from 1929-1965.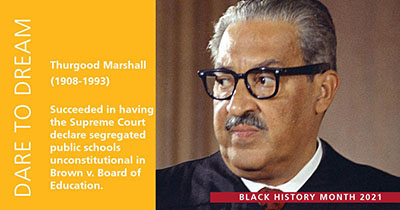 Thurgood Marshall (1908 – 1993)
Succeeded in having the Supreme Court declare segregated public schools unconstitutional in Brown v. Board of Education.
Named Thoroughgood Marshall at birth, he grew tired of friends picking at his first name so at age six he had it legally changed to Thurgood. Marshall attended the oldest African-American institute of higher education, Lincoln University, and went on to law school at Howard University, where he graduated first in his class. He took over the NAACP Legal Defense and Education Fund in 1938. In that role he argued and won cases that established precedents for chipping away Jim Crow laws in higher education. This led to Marshall succeeding in having the Supreme Court declare segregated public schools unconstitutional in Brown v. Board of Education.(1954). In 1965 he was appointed to the post of Solicitor General, the third highest office in the Justice Department. In 1967, President Lyndon Johnson appointed him to the U.S. Supreme Court where he served until his retirement in 1991. Thurgood Marshall's legacy earned him the nickname "Mr. Civil Rights".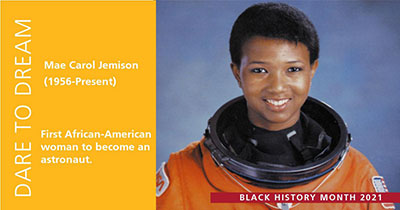 Mae Carol Jemison 1956-Present
First African-American woman to become an astronaut.
Mae Carol Jemison was born Oct. 17, 1956, in Decatur, Alabama. She is an engineer, physician, and former NASA astronaut. Jemison graduated from Stanford University with a Bachelor of Science degree in Chemical Engineering and a Bachelor of Arts in African and African-American studies. She continued her education at Cornell Medical School. She is the first African-American woman to become an astronaut. Jemison spent over a week, in the space shuttle Endeavor, orbiting Earth.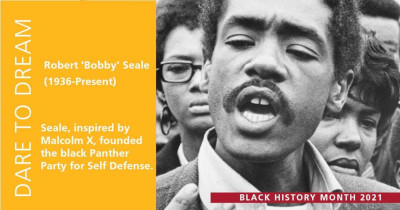 Robert "Bobby" Seale (1936 - Present)
Founded the Black Panter Party for Self-Defense.
Robert "Bobby" George Seale was born in Liberty, Texas. He and his family lived in several cities in Texas before eventually settling in Oakland, California. After spending time in the U.S. Air Force, Bobby attended Merritt College. At Merritt, Seale joined the Afro-American Association, a student group that promoted black separatism. It was also at Merritt that Seale met Huey Newton and the two of them, inspired by Malcolm X, founded the black Panther Party for Self Defense. The Black Panthers were viewed as a militant group and Seale was often arrested and tried on multiple charges. He ran for mayor of Oakland in 1973 and though he lost, of nine candidates, he received the second most votes. After the destruction of the Black Panther Party, Seale taught in the African-American Studies Department at Temple University. In 2002 he moved back to Oakland to help young activist bring about social change.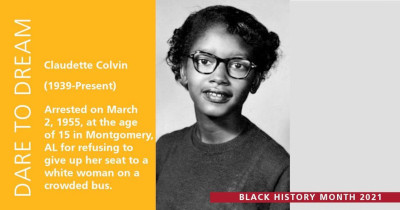 Claudette Colvin (1939-Present)
Though many know the story of Rosa Parks, the story of Claudette Colvin is not so widely known. Claudette Colvin, born Sept. 5, 1939 was arrested on March 2, 1955, at the age of 15 in Montgomery Alabama, for refusing to give up her seat to a white woman on a crowded bus. Because she was a pregnant teenager who had neither fair skin nor "good hair", Claudette did not receive the attention that Rosa Parks received. It is said however, that Rosa Parks was inspired by Claudette Colvin. Colvin said, of the civil rights leaders, in an interview "They thought I would be too militant for them."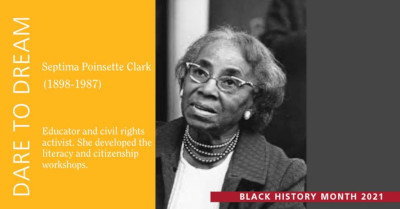 Septima Poinsette Clark (1898-1987)
Septima Poinsette Clark was an African American educator and civil rights activist. She developed the literacy and citizenship workshops that played an important role in the drive for voting rights and civil rights for African Americans in the Civil Rights Movement. Mrs. Clark was often referred to as the "Mother of the Movement" by Dr. Martin Luther King. She is quoted as saying "The greatest evil in our country today is…ignorance…We need to be taught to study rather than to believe." Mrs. Clark became an instructor on South Carolina's Johns Island in 1916 and return Charleston in 1919 to teach at Avery Institute. Around this same time she also joined with the National Association for the Advancement of Colored People (NAACP) in trying to get the city to hire African-American teachers. Mrs. Clark worked with the organization—and with Thurgood Marshall—on a 1945 case that sought equal pay for Black and white teachers. She described it as her "first effort in a social action challenging the status quo." Her salary increased threefold when the case was won. However, in 1956, South Carolina made it illegal for public employees to belong to civil rights groups. Clark refused to renounce the NAACP and, as a result, lost her job.
Partners
Visit us on Facebook

Contact Information
If you have a disability and need accommodations, please contact the Counselor/Students with Disabilities Program at least 72 hours in advance at (828) 327-7000, ext. 4222 or accommodations@cvcc.edu
Assistant Director for Multicultural Affairs
Office of Safety, Security & Health/Multicultural Affairs
Email: Erika Tiscareno Velasco
Phone: 828-327-7000 x4578
Office Number: CAD 139