CVCC Recognizes Graduates of the BLET Program
CVCC Recognizes Graduates of the BLET Program
CVCC Basic Law Enforcement Training (BLET) program recognized 6 graduates during a formal ceremony
09/07/2023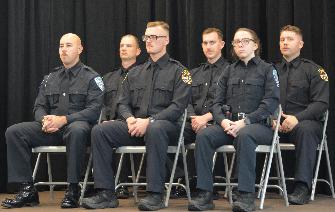 HICKORY, N.C. – On Thursday, August 31st, the CVCC Basic Law Enforcement Training (BLET) program recognized 6 graduates during a formal ceremony at the CVCC West Wing.
Graduates included Scott Cameron (Hickory Police Department); Matthew Garcia (Conover Police Department); Emma Harrelson (Longview Police Department); Dustin Hudson (Conover Police Department); Shane O'Keefe (Newton Police Department); and Cody Vandyke (Conover Police Department).
As a graduation requirement, each student must complete 36 blocks of curriculum instruction, and at the end of each block, students must pass a written test to move forward in the BLET program. In total, this results approximately 711 hours of training and education.
Lemuel Martin, Director of CVCC's BLET, is proud of each graduate and celebrates their success. "This particular class has worked well with each other the entire course," says Martin, "and everyone made sure that no one fell behind, especially in the physical training portion of the BLET program."
Scott Cameron, who was recognized as Class Leader for the current cohort, reminded everyone of their purpose for service in Law Enforcement and related professions. "I hope all of my fellow cadets have found their 'Why', just as I have," Cameron said. "It's a calling with a higher sense of service to protect my friends, family, and neighborhood."
CVCC looks forward to the impact these professionals will have on our communities and homes.
For more information about the BLET program at CVCC and the next available course, please contact Clyde Deal, Chief of Security and Law Enforcement Education, at cdeal@cvcc.edu. To learn more about Catawba Valley Community College and how you can SOAR above, visit our website at www.cvcc.edu.
Pictured Above: BLET Graduates attend their class ceremony.
# # #