Notification Feeds
Access this dialog through Customer Admin - Utilities - Notification Feeds. Feeds configured and made active (State is not Inactive) display as available in the Notifications dialog, a repository of shareable news feeds and reports accessed from the CommonSpot menu bar.
CommonSpot reports the number of unviewed items for each contributor (along with My CommonSpot work items) through a New Posts indicator in the menu bar and refreshes the displayed count of work items and notification feeds in the background every 15 minutes, or when the site content changes. This process stops no longer than 15 minutes after the last authoring action, and may extend user sessions by that amount of time.
Once enabled, contributors have controls to show/hide one or more feeds, view new items only, set all to new, or set all to viewed. See Notifications in the Content Contributor's Reference for details. Administrators can control the default state of each feed and make individual feeds "mandatory" - contributors cannot turn them off or remove them.
PaperThin provides its own feed for product and service alerts for CommonSpot customers. You can deactivate this feed, but you cannot edit or delete it.
Use this dialog to create and configure the set of feeds available to contributors.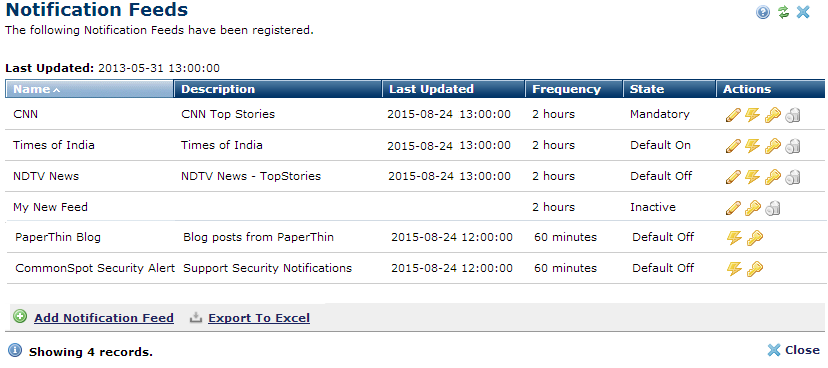 Note: To automatically update feeds, you must configure and run a customer-level scheduled job for this purpose. CommonSpot reports an error if this job is not configured, as follows:

You can also update feeds "on-demand" through this dialog.
The first five columns are sortable. Descriptions are optional. This dialog displays the last time the feed was updated, how often the scheduled job updates it, whether this feed is mandatory (contributors must have it on) or non-mandatory, and whether it is on or off by default. See the description for State in Add Notification Feed.
In the Actions column:
Click the run icon to force a feed update. Otherwise, feeds are updated on the schedule listed in the Frequency column, defined through the scheduled job.
Click the edit icon to view or change Name, Description, or feed URL, set update frequency, configure user options to view a feed, and enable or disable archive viewing.
Click the Security icon to make feeds available to groups or users at your site through the Notification Feed Security dialog.

Remove individual items by clicking the associated delete icon , or select multiple items, click Delete Selected from the More Actions dropdown, then click Go. You can optionally select/deselect all.
Click Add Notification Feed <![CDATA[ ]]>to create new mandatory or optional feeds.

CommonSpot includes the Export to Excel option in multiple reports throughout the system so you can conveniently collect and distribute data for import into spreadsheets or other applications that accept comma-separated values. Click this option to display a table of all fields within the current report, then select the fields whose values you want to export and save in spreadsheet or CSV format. Selected fields automatically display as column heads in the CSV output. You also have the option to change column names on the fly to customize your reports.
Related Links
---
You can download PDF versions of the Content Contributor's, Administrator's, and Elements Reference documents from the support section of paperthin.com (requires login).
---
For technical support: