Notification Feed Security - Add Groups
Access this dialog by clicking Add Group(s) in the Notification Feed Security dialog to grant new users access to the current feed.

Group records created through the Admin - Group Administration function display in the Add Group(s) dialog. Use this dialog to include one or more existing groups in a new group or to give one or more existing groups explicit permissions. This dialog displays with a function-specific title for all CommonSpot operations that include the Add or Select Group(s) option, for example, Group Administrator(s) - Add Groups, Element Security - Add Groups, Server General Security - Add Groups, Field Security - Add Groups, Shortcut Security - Add Groups, etc.
Although the Add Groups dialog is functionally the same, security options are case-specific. In addition, some group selection dialogs may also include Visitor Context Groups, as shown below. These groups display only for cases where it makes sense to include specific, anonymous visitor communities, and do not appear otherwise.
Important Note: It is not possible to assign site, subsite, page or Element security to any individual Visitor Context group. You can only add a Visitor Context Group to an existing Group.
See Visitor Context for more information.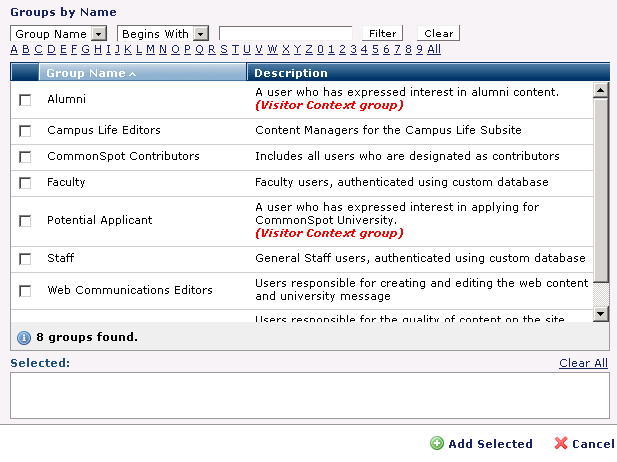 Click column heads to sort group names alphabetically or by description, or, for installations with a large number of groups, refine your search through dropdown/text entry field combinations and click Filter, as shown below  for Group names ending with Editors.
Click the Clear button to empty the text entry field.
Click checkboxes to select groups.  Choices display in the Selected box. Click the remove icon

  to deselect individual groups, as shown below, or click Clear All to deselect all groups. 
When you are finished, click Add Selected to use the groups you choose, as shown above, or click Next, as shown below, to complete security assignments for the selected groups.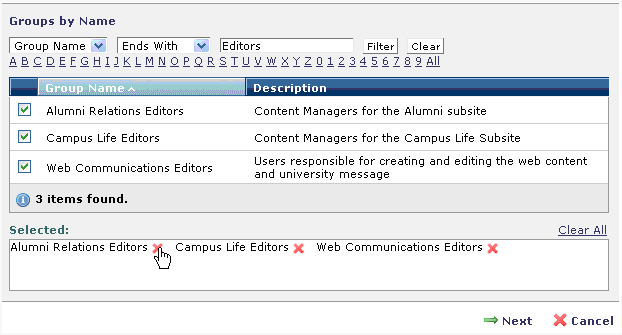 Related Links
---
You can download PDF versions of the Content Contributor's, Administrator's, and Elements Reference documents from the support section of paperthin.com (requires login).
---
For technical support: