The CVCC Small Business Center and the NC Small Business Center Network classify non-profit organizations as Non-Profit Businesses which contribute to the NC economy and to our quality of life. The Small Business Center hosts seminars geared to the leadership of non-profit organizations throughout the year, and our counseling services are also available to non-profits.
Our next seminar is:
Diversified Funding Strategies for Successful Non-Profits
Tuesday, August 14, 2018, 9:00 AM to 12:00 PM
Instructor: Mandy Pearce, Funding for Good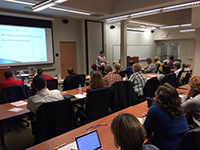 Non-Profit organizations must diversify their funding streams or risk closing the doors when that "one source" dries up. This workshop is a game changer for board members or organization leaders who are ready to develop the new, diverse funding streams needed sustain and grow the organization. Participants will evaluate the pros and cons of diversified funding, best practices for new capacity building opportunities, the primary elements of successful fundraising, and time management skills needed to navigate a new world of resource development.
Call (828) 327-7000, ext. 4117 to register or register online.
---
Effective Fundraising with Your Board
Thursday, October 4, 2018, 9:00 AM to 12:00 PM
Instructor: Mandy Pearce, Funding for Good
Do you have a working board? Most non-profits say 'no'.   Do you want a working board? All non-profits say 'yes'.  As non-profit development staff are faced with the challenge of engaging board members to assist with development efforts, they are often met with resistance and frustration. As with all fundraising, engaging in conversations and learning about those you work with is key.   Learn some of the pitfalls to avoid in beginning to ask for your board's help in development as well as the steps you can take to have more participation from your board members in all aspects of development work. Join us for this 3 hour workshop to discuss board relations, board education, and how to begin to build the foundations for a working board that will help your non-profit grow for good. 
Call (828) 327-7000, ext. 4117 to register or register online.
---
Previous Small Business Center seminars for Non-Profits have included:
Grant Writing 101
Fundraising Fundamentals
Engage Your Non-Profit Board of Directors
Effective Fundraising with Your Board
Storytelling for Your Non-Profit
Marketing Strategies for Your Non-Profit
Resources for Your Non-Profit Organization:
» NC Secretary of State, Forms to Create a Non-Profit Organization in NC
Information on How to Start a 501(c)(3) organization from the » NC Center for Non-Profits (PDF).
To view these (PDF) documents you may need to download Free Adobe reader at www.adobe.com.