The CVCC Small Business Center and the NC Small Business Center Network classify non-profit organizations as Non-Profit Businesses which contribute to the NC economy and to our quality of life. The Small Business Center hosts seminars geared to the leadership of non-profit organizations throughout the year, and our counseling services are also available to non-profits.
Our next seminar is:
The Art of the Ask
Thursday, October 26, 2017, 9:00 AM to 12:00 PM
Instructor: Mark Sinclair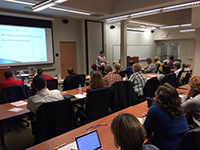 There are many digital fundraising opportunities for non-profit organizations, but leaders of these organizations must still build and maintain personal relationships to sustain their funding. Real money is raised through personal contact, through cultivation, through planning and preparation--personal means, as opposed to texting, e-mail, and other more digital forms of communication. This seminar will review the basics of personal fundraising and the "art of the asking" people for money to support their non-profit organization.
Call (828) 327-7000, ext. 4117 to register or register online.
---
Strategic Planning 101 for Non-Profits
Tuesday, November 28, 2017, 9:00 AM to 12:00 PM
Instructor: Mandy Pearce, Funding for Good
To be successful a non-profit should always have a detailed strategic plan. Participants will learn key components in the strategic planning process and how to engage the appropriate board members, staff, volunteers, and/or stakeholders in the process. This workshop offers a roadmap for non-profits who want an overview of strategic planning from start to finish as well as some practical tools to use along the way.
Call (828) 327-7000, ext. 4117 to register or register online.
---
Previous Small Business Center seminars for Non-Profits have included:
Grant Writing 101
Fundraising Fundamentals
Engage Your Non-Profit Board of Directors
Effective Fundraising with Your Board
Storytelling for Your Non-Profit
Marketing Strategies for Your Non-Profit
Resources for Your Non-Profit Organization:
» NC Secretary of State, Forms to Create a Non-Profit Organization in NC
Information on How to Start a 501(c)(3) organization from the » NC Center for Non-Profits (PDF)
To view these (PDF) documents you may need to download Free Adobe reader at www.adobe.com.