Redhawk Publishing is a subsidiary of Catawba Valley Community College in Hickory, NC. Books are written by students, faculty, and staff of CVCC as well as members of the college's community partners including the Historical Association of Catawba County in Newton, NC.
Redhawk's initial publication Polio, Pitchforks, and Perseverance: How a North Carolina County Named Catawba Built a Miracle along with its companion documentary Miracle: How a North Carolina County Named Catawba Battled Polio and Won debuted in 2016. Both are available at the CVCC Bookstore as well as the Catawba County Museum of History in Newton. Polio, Pitchforks, and Perseverance is also available as an eBook using the Kindle format on Amazon.com.
Redhawk welcomes faculty who would like to take part in a pilot to create texts, course-packs, and manuals for your courses. Redhawk will help you create low-cost version of these texts, created and written by you, that will improve student learning in your specialty and create a revenue opportunity for YOU and your program!
Redhawk's first course workbook is debuting in 2018. Jeff Kautz has authored "Introduction to Ethics" to conform to PHI-240.
Purchase one of our Current Books or view our Upcoming Books.
Robert Canipe runs Redhawk as its Editor-In-Chief, layout artist, and Jack-Of-All-Trades.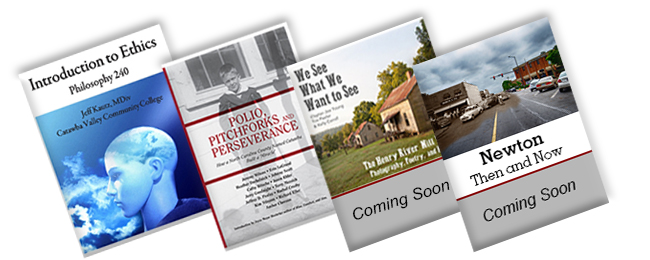 Image Transcription: Introduction to Ethics: Philosophy 240, Polio, Pitchforks, and Perseverance, We see What We Want to See: The Henry River Mill Village, and Newton: Then and Now
Robert T Canipe, MA
Editor-In-Chief, Redhawk Publications
Professor of English and Composition
rcanipe@cvcc.edu
(828) 327-7000, ext 4380
Office VSL 219A