Firearms In-Service Courses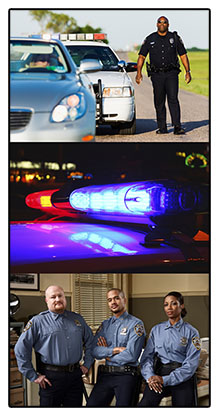 This course is designed to provide the student with the knowledge and skills to make informed judgments with regard to the use of deadly force, to safely handle all types of firearms which may be assigned to them in their line of work, and to deliver accurate fire from a variety of combat positions. Upon successful completion the student will show the ability to fire the weapon(s) assigned to them from a variety of distances and positions in attaining a qualifying score of no less than 70%. The student will also show competency in the operation and maintenance of their assigned weapons.
Radio Detection and Ranging (RADAR)
This course is designed to develop knowledge and skills used by Criminal Justice personnel who are authorized to use RADAR equipment used by their departments. Lecture, demonstration, and practical field exercises are the principle methods of instruction. Employment in the field of Criminal Justice and authorization of the department are prerequisites for enrollment in this course.
RADAR – Time Distance
This course is designed to renew and confirm knowledge and skills necessary to perform those tasks essential to function as a radar and time distance speed measurement operator.
Light Detection and Ranging (LIDAR)
Field Sobriety Testing
Taser
Special Weapons and Tactics (SWAT)
This course is designed to provide training in all topics directly related to tactical preparation or response activities. Course topics may include, but are not limited to, Situational Shooting Techniques, Officer Survival, Responding to Crimes in Progress, Electrical and Hazardous Devices, Domestic Violence Intervention, Impact Weapons and Procedures, Diversionary Tactics & Distraction Devices, Subject Control, Critical Incident Management, Firearms for Private Protective Services, Responding to Civil Disorders, Chemical Munitions, High Risk Entry Techniques, Special Weapons and Tactics, Sniper Training, High Area Protection, Tracking, Search and Rescue, Rapid Deployment, Rappelling, Ballistic Shields, Armed Prisoner Transport, Cell Extraction, Diver Certification Training for Law Enforcement, and Tactical Response for SWAT Medics. This course prefix should be used for courses that fit the nature of the above examples. Local titles may be used. Course hours should be reasonable based upon the nature of the local training, but may not exceed the maximum hours.
Officer Survival
Force-on-Force Courses
Self-Defense Courses
Concealed Weapons Classes
Criminal Justice Instructor Methodology