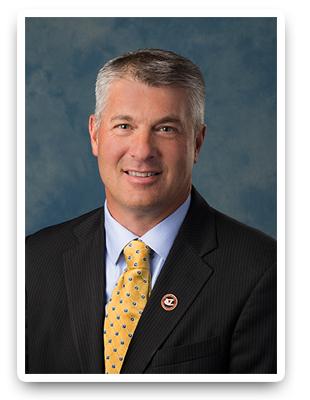 "The one core value on our campuses that must remain consistent in today's global economy is our passion and commitment to improve the lives of the people we serve. We must continuously strive to remain relevant for the workforce and provide access for transfer to four-year colleges and universities. Our focus has transitioned from one of maintaining to one of being a catalyst in our community through intentional actions that lead to a positive return on investment for our stakeholders and our college."
-Dr. Garrett D. Hinshaw
On August 6, 2006, Catawba Valley Community College welcomed the third president in the college's then 48-year history: Dr. Garrett D. Hinshaw. Immediately, he set the bar high: to become the Best Community College in America.
Dr. Hinshaw is quoted as saying, "the student is always the most important person on our campus." The journey that began August 6, 2006 continues today with many initiatives resulting in a win/win for all of our stakeholders." Some of these include:
Dr. Hinshaw's leadership is recognized at the state, local, and national level as he serves on various boards, panels, and committees. He led the college as we won a grant from N.C. IDEA last year that will enable the college to continue development and promotion of entrepreneurs at the local and state level.
Through his leadership and collaborative efforts, the college is continually recreating itself, and in the process, redefining the region's economy.
Dr. Hinshaw collaborated with the local entities of public education in Catawba County, Employers, and Catawba County Government to develop the k64 concept in late 2016. This initiative will provide seamless education opportunities to all students beginning at the kindergarten level and going through retirement.
Personal Awards and Accomplishments:
2016 – Presidential representative, National Junior College Athletic Association (NJCAA)
2016 – Currently serving on the Executive Board of NACCE.
2015 - Named President of the Year by the State Board of Community Colleges
2014 - Served on the forum for Deshpande Foundation in the discussion of emerging strategies and practices that encourage innovation and entrepreneurial education, campus culture, and community/business engagement
2014 - Member of ASU Class of Rhododendron Society
2013 - Received inaugural Catawba County Community Leadership Award
2013 - Panelist at American Association of Community Colleges Workforce Development Institute General Session: "Disruptive Challenges to Prepare and Position the American Workforce"
2011 – I.E. Ready Distinguished Leader Award, N.C. State University
Boards and Committees:
K-64 Board of Directors, ex-officio
Catawba County Economic Development Board – Executive Committee
CVCC Alexander Center Advisory Board
Serving as a member of the NC Community College System Presidents Association
National Association of Community Colleges for Entrepreneurship (NACCE) board member