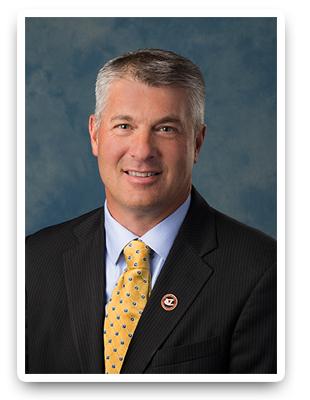 "The one core value on our campuses that must remain consistent in today's global economy is our passion and commitment to improve the lives of the people we serve. We must continuously strive to remain relevant for the workforce and provide access for transfer to four-year colleges and universities. Our focus has transitioned from one of maintaining to one of being a catalyst in our community through intentional actions that lead to a positive return on investment for our stakeholders and our college."
-Dr. Garrett D. Hinshaw
On August 6, 2006, Catawba Valley Community College welcomed the third president in the college's then 48-year history: Dr. Garrett D. Hinshaw. Immediately, he set the bar high: to become the Best Community College in America.
Since that time, he has begun the process of demonstrating that these aren't just words. The journey that began August 6, 2006, was the catalyst for many "firsts" for CVCC. Some of these include:
After creating and completing the first five-year strategic plan for the college, he provided oversight for the development of the current 2013-2018 strategic plan as the college continues to move forward.
Established the first Office of Alumni Affairs in 2014.
CVCC students won gold and silver medals at the national SkillsUSA competition in 2013 and 2014.
Established the first Multicultural Affairs Office within the N.C.. Community College System.
Added to the college's NJCAA sports opportunities for men and women. The baseball team competed at the National Junior College World Series just three years after development, and the men's and women's basketball and women's volleyball teams have achieved great success at the state, regional and national level.
Transformed the former Hosiery Technology Center into the Manufacturing Solutions Center (MSC), a research and development center for all types of product and service-oriented companies around the world.
Received recognition by the NC Energy Office for efficiently managing energy usage on campus.
Opened the CVCC ValleySim Hospital which utilizes high-fidelity manikins to simulate real-life illnesses and diseases for student learning. The largest of its kind east of the Mississippi, the facility is open for use by other institutions of higher learning and health care facilities.
Dr. Hinshaw's leadership was instrumental in the college's selection as one of three community college partners with Lorain County Community College (Ohio) and the Ewing Marion Kauffman Foundation to spearhead the pilot phase of Innovation Fund America (IFA). The three colleges, selected from a nationwide search and evaluation process, share the leadership and innovative desire necessary to launch and sustain the Innovation Funds in their region.
Through Dr. Hinshaw's leadership, the college is continually recreating itself, and in the process, redefining the region's economy.
Personal Awards and Accomplishments:
2015 - Named President of the Year by the State Board of Community Colleges
2014 - Served on the forum for Deshpande Foundation in the discussion of emerging strategies and practices that encourage innovation and entrepreneurial education, campus culture, and community/business engagement
2014 - Member of ASU Class of Rhododendron Society
2013 - Received inaugural Catawba County Community Leadership Award
2013 - Panelist at American Association of Community Colleges Workforce Development Institute General Session: "Disruptive Challenges to Prepare and Position the American Workforce"
2011 - Leaders Panel at Northeast State Community College
2011 - Received "Jerry Award" (presented by the Charlotte Regional Partnership) for Workforce Development
Collaborated with Catawba County Chamber of Commerce to develop "Education Matters," a partnership connecting education, businesses, and government to increase the value of education in Catawba County. 
2010 - Received the IE Ready Distinguished Leadership Award from NC State University 
Boards and Committees:
Catawba County Chamber of Commerce, 2012 Chair
Catawba County Economic Development Board
Innovate Catawba Leadership Committee
CVCC Alexander Center Advisory Board
2014-15 President, NC Community College System Presidents Association