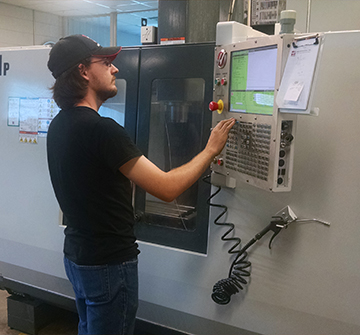 The Computer-Integrated Machining Technology curriculum prepares students with the analytical, creative, and innovative skills necessary to take a production idea from an initial concept through design, development, and production, resulting in a finished product.
An Associate of Applied Science degree, diploma, or certificate is awarded to graduates of this curriculum.
Coursework may include manual machining, computer applications, engineering design, computer-aided drafting (CAD), computer-aided machining (CAM), blueprint interpretation, advanced computerized numeric control (CNC) equipment, basic and advanced machining operations, precision measurement, and high speed multi-axis machining. Graduates should qualify for employment as machining technicians in high-tech manufacturing, rapid-prototyping and rapid-manufacturing industries, specialty machine shops, fabrication industries, and high-tech or emerging industries such as aerospace, aviation, medical, and renewable energy, and to sit for machining certification examinations.
What skills and/or education are needed?
Individuals interested in pursuing the field need to take high school or vocational school math courses, including geometry, algebra II, advanced functions and modeling, or higher. Blueprint reading, computer programming, metalworking, and drafting are also critical to being successful.
How do I apply?
Rising high school juniors and seniors should see their school counselor. You must apply for the Career and College Promise-CTE Pathway. Graduating seniors should attend a "Starting Points" information session at CVCC.
Please see the catalog for more information about the degree, diploma, and certificate options for this curriculum.
« Important information about the educational debt, earnings, and completion rates of students who attended this program. - Computer Integrated Machining Technology - Diploma
Hass Automation No Limits...
If you have a good work ethic and skill in machining, there is no limit to where your energy might take you.
Manufacturing Careers in the News
» American producers leading a global manufacturing recovery
Contact
Gary Muller
Dean
(828) 327-7000, ext. 4672
Steven Rhoads
Program Director
(828) 327-7000, ext. 4713
John Whitlock
Instructor
(828) 327-7000, ext. 4561