CVCC Black History Celebration February 25th
"We the People" 18th Annual 2020 Black History Celebration
Catawba Valley Community College's Office of Multicultural Affairs and BB&T will hold its annual Black History Celebration Tues., Feb. 25th, from 6 to 8 PM in the college's Tarlton Complex. The event is FREE and open to the public.
02/25/2020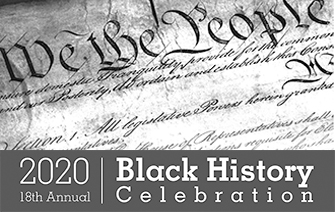 Keynote Speaker: Dr. Garrett Hinshaw will speak on the subject of "We the People." Dr. Garrett D. Hinshaw became the third president of Catawba Valley Community College (CVCC) on August 1, 2006. Under his leadership, CVCC has continued its history of empowering individuals to aspire, dream, and achieve. The College serves as a leading entity in redefining the region's economy through his collaborative efforts to develop partnerships at the local, state, and national levels. He is often quoted for his belief that, "the student is always the most important person on our campus."
The theme will be celebrated through choir performances by Morning Star Baptist Church, CVCC Choir, and St. Paul AME- Lenoir. Dinner will be served on a first come basis.
Black History Celebration event partners include BB&T, CVCC Foundation, Inc., Students Striving for Success, Minority Males on the Move, Emerging Leaders, SkillsUSA and CVCC Diplomats.

If you have a disability and need accommodations, contact CVCC's Counselor for Students with Disabilities at least 72 hours in advance to allow time to arrange the services at 828-327-7000, ext. 4222, or accommodations@cvcc.edu.
For more information about the Black History Celebration, call 828-327-7000, ext. 4578.
# # #