2021 CVCC Virtual Business Symposium
Join us for the 2021 CVCC Business Symposium virtual event. The event is FREE to the public.
Join us for Catawba Valley Community College's Virtual Business Symposium. This event will include business owners from the community, CVCC alumni, and guest speakers. This event is 100% online. 
Each session will address the skills needed to succeed in today's constantly-changing work environment. Sessions benefit all professionals, regardless of whether you are a welder, educator, cosmetologist, manufacturer, or medical professional. Sessions are free and open to the public. Please see registration information below.  
Sessions
Date: Wednesday, March 10
Each session will be Virtual and 60 minutes long.

9 - 10 AM KICKOFF
Leading Through the Storms
Dr. Garrett D Hinshaw
President, CVCC

12 - 1 PM 
Keynote Speaker
Molly Grantham, Anchor WBTV

2 - 3 PM
Alumni Discussion Panel
Markie James
Owner: Bark Side Pet Grooming
Juan Vasquez and Amanda Dowell
Owners: Toasted and Rolled Ice Cream Shop
Moderated by Dean Gary Muller, CVCC
4 - 5 PM 
Mindful Movement and Meditation for Motivating Days
Tricia Cooper, Personal Life Coach and Trainer

Guest Speakers
9 - 10 AM
Dr. Garrett D. Hinshaw 
Leading Through the Storms
Dr. Garrett D. Hinshaw became the third president of Catawba Valley Community College (CVCC) on August 1, 2006. Under his leadership, CVCC has continued its history of empowering individuals to aspire, dream, and achieve. The college serves as a leading entity in redefining the region's economy through his collaborative efforts to develop partnerships at the local, state, and national levels. He is often quoted for his belief that, "the student is always the most important person on our campus."
President's Message
"The one core value on our campuses that must remain consistent in today's global economy is our passion and commitment to improve the lives of the people we serve. We must continuously strive to remain relevant for the workforce and provide access for transfer to four-year colleges and universities. Our focus has transitioned from one of maintaining to one of being a catalyst in our community through intentional actions that lead to a positive return on investment for our stakeholders and our college."  -Dr. Garrett D. Hinshaw

12 - 1 PM
MOLLY GRANTHAM - ANCHOR. AUTHOR. MOM.
Molly Grantham is a two-time Emmy award winning journalist who was given the title of "Charlottean of the Year" in 2020 by Charlotte Magazine. She has also been named "TV News Reporter of the Year" for both Carolinas, one of Charlotte's top "40 under 40" and one of Mecklenburg County's "50 Most Influential Women." She is a leader in social media, anchors WBTV's 5:00 PM, 5:30 PM, and solo-anchors the 11 PM show, which is number 1 in the marketplace.
Her first book, Small Victories: The Off-Camera Life of an On-Camera Mom, sold out on Amazon in its first week. It's a funny, accurate, real-life account of juggling too much, and showing imperfections in relatable ways. A perfect lead-in to her second book: The Juggle is Real, which launched in May of 2020 during coronavirus, a time when everyone is juggling more than ever. Find out more about both books on the Molly Grantham webpage.
Molly gave a TedEx Talk called The Real We Are on stereotypes about women and image. It's not something you expect a television news anchor to tackle, being that her career is visual and harshly judged. You can watch the talk on YouTube.
Since arriving in Charlotte as a reporter in 2003, Molly has covered gangs, terrorism and the fight to legalize cannabis oil in North Carolina. She is also actively involved in Charlotte's cancer community and well-known for #MollysKids, children with uphill medical battles. Molly follows the battles of over 100 local children a year, networking them together, promoting awareness and helping raise funds for research. Much of it is through her active Molly Grantham Facebook page.
Cancer has hit Molly's family hard. Her grandfather died of pancreatic cancer. Her mom died of breast cancer in 2017 and her father, who she says is her forever hero, died of colon cancer in 2006. Her grandmother also battled breast cancer and her great-grandmother died of the disease years before society felt comfortable even saying the word "breast" aloud.
Molly and her husband, Wes, have an 9-year-old daughter (Parker), 6-year-old son (Hutch), and 8-month-old baby boy (Hobie), born last July.
She says in her next life, she wants to be a mermaid.

2 - 3 PM
Alumni Panel of Discussion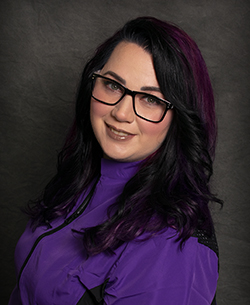 Markie James
CVCC Alumni
Owner: Bark Side Pet Grooming
Markie James is a native of Morganton, North Carolina, and graduated from CVCC in 2018. She has been a professional pet groomer for twelve years. She had always dreamed of her perfect salon, and she was going to make it happen. After participating in CVCC's Entrepreneurship 2017 and 2018 Teams, she had the knowledge and tools to make that dream come true.
Within two years, Markie has grown to the point where she has seven employees, and she has won several awards for quality and customer service. She strongly believes in giving back to her community, holding pet food drives and collecting donations for local animal rescues. Her core values include a healthy work environment, passion for her work, and doing the right thing.
Recently, Markie has participated in grooming competitions throughout the southeast, and has been chosen for the Pro Groom Team for Foxy Roxy's Supply Co. She continues to attend seminars and classes to further her education and skill set to become a leader in her industry, and bring her business to new heights.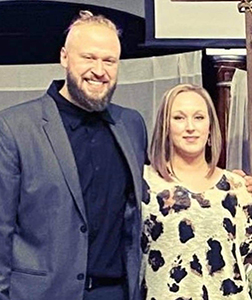 Juan Vasquez and Amanda Dowell 
CVCC Alumni
Owners: Toasted and Rolled Ice Cream Shop
Amanda Dowell is from North Wilkesboro, North Carolina. She attended Wilkes Community College and Montgomery Community College, majoring in Business. Juan Vasquez attended Catawba Valley Community College where he majored in Entrepreneurship. She and her husband Juan opened Toasted and Rolled in Morganton, NC in 2018. Since she was nine years old, Amanda dreamed of owning her own business. Both Amanda and Juan had a passion for culinary but did not necessarily want to open a business that served food. After college, Amanda worked for two great companies that provided her with some important lessons which she implemented when opening her own business. 
Toasted and Rolled developed a marketing strategy via social media, and in six months, their Facebook following grew to 16,500 people. Amanda has won awards for "The Best Ice Cream in Burke County" and has been featured in several news articles. Amanda views her business from a "Glass Half Empty" perspective, and she contributes this belief to helping her continuously improve. Amanda stated, "Owning your own business is tough, it's not always best to be positive, you need to learn from the negative situations and use those lessons to grow." 
Amanda believes in the importance of life-long learning and takes advantage of every opportunity to learn. She stated, "I am observant when I am a customer at other restaurants and businesses. This enables me to better understand the customer experience. From a customer's perspective, I can learn both positive and negative aspects of the consumer experience." 
One of Amanda's core values is a commitment to her customers. When a customer enters her business, she delivers an incredible experience, so the customer can fully value her products. She prepares outstanding desserts, that taste as amazing as they look. Her exceptional products are complemented by excellent customer service, coupled with an entertainment factor and an open kitchen plan. 
Stop by Toasted and Rolled the next time you are in Morganton!  You will not be disappointed!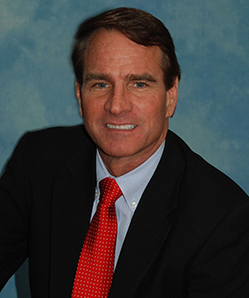 Gary Muller
Dean of Workforce Development And The Arts
Gary Muller is the Dean of the School of Workforce Development and the Arts. He has his BA and MBA from Wake Forest University and is a Certified Public Accountant.
He is also the co-owner of two businesses. The businesses focus on real estate development and investment management.
He has over 20 years of business experience in public accounting, franchising of specialty retail snack food shops and manufacturing. The last 12 years have been spent in education at CVCC where Muller has been a dean since 2014.

4 - 5 PM
Tricia Cooper
Mindful Movement and Meditation for Motivating Days
Tricia Cooper is a personal life coach and trainer. She has been in the fitness industry for 42 years. After many years of training herself and others in hard core fitness goals of marathons, weight training, body building, triathlons, high impact aerobics, and mud racing; Tricia realized that the body needed healing as well.
Over the last 10 years Tricia has developed a fitness program that teaches the mind and body to find balance and healing. The Feng Shui Fitness Journey teaches foundations of exercise by taking the negative energy of exercise and teaching the benefits of how the breath and mental discipline will bring positive strength and energy to the body and mind, thus instilling balance and healing.
Feng shui is the practice of the movement of energy, energy is called "Chi".  Feng Shui corrects the movement of the "Chi", and this correction movement of the "Chi" is called the Cure.
The goal of The Feng Shui Fitness Journey is to move the energy "Chi" into a healthy space which promotes physical healing, mental discipline, emotional awareness, and spiritual and physical balance. The by product of The Feng Shui Fitness Journey is to find strength and balance as the body and mind move into spaces of being comfortable-being un-comfortable and moving past the physical and mental challenge that instills the cure for healing and peace. 
Tricia has also spent the last 6 years developing a Fitness Board that assists the body in strength and balance. The Journey Board helps in building greater, healing, balance, strength, and confidence. The Journey Board, has just received it's patent and Gold Seal in August 2020! And, was part of the Entreprenuer program at CVCC just a few short years ago!
If there is one piece of advice that Trica would like to share with you it's this...
"Failing to prepare for the future, prepares us to fail in the future, so dream God-sized dreams and put one thing into action each day!"

For more information contact:
Christy Lefevers
clefevers@cvcc.edu
(828) 327-7000, ext. 4308
Darcie Tumey
dtumey@cvcc.edu
(828) 327-7000, ext. 4011

The Business Symposium is hosted by the Accounting, Business and Office Administration Departments of Catawba Valley Community College.