Career Coach
Discover Your Purpose. Want to explore career options? The Career Coach is a free online tool to help students plan their educational goals.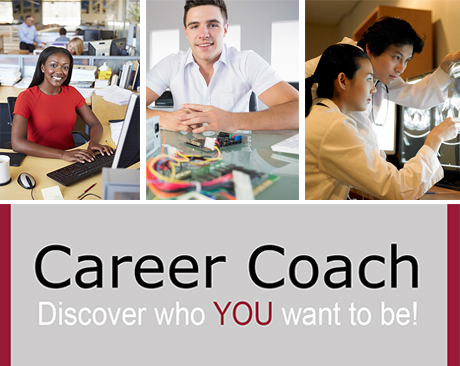 Discover more about your career options and make good decisions using the most current local data about career fields and job opportunities. Let Career Coach help you prepare for success!

» Get Started with Career Coach
Career Coach is a FREE, online resource that can help you explore possible career options, learn about local employment trends and wages, help you determine your educational goals at CVCC and even assist you in creating a resume for your job search!
Using Career Coach, you can:
Explore how your career interests matches to 800+ careers.
Research current local data: job openings, employment trends and salary information.
Connect to CVCC programs that are related to your career interests and job search.
Explore degrees to find related career information and job options.
Create a resume using the Resume Builder tool.
Access Career Coach at your convenience. Career Coach is available 24 hours a day, anywhere with an internet connection.
For more information, please contact Teresa Ray at (828) 327-7000, ext. 4806, or tray@cvcc.edu
Office Location: Student Services building SS 870 - Advising Center