Redhawk Publications - Current Books
Redhawk Publications - Current Books
Redhawk Publications' current books will be expanding. Keep checking back to see more great offerings.
"We See What We Want To See: The Henry River Mill Village"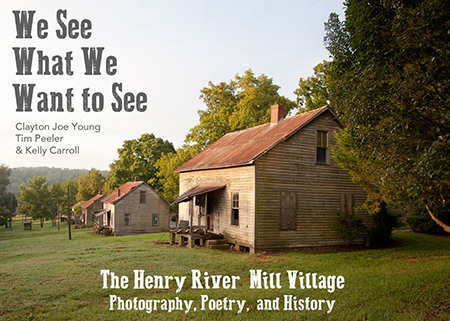 We See What We Want To See: the Henry River Mill Village, Photography, Poetry, and History by Clayton Joe Young, Tim Peeler, and Kelly Carroll is a hybridization of artistry and scholarship.
The book is a project born of fascination with the Henry River Mill Village off Interstate 40, exit 119, just outside Catawba County.
Built in 1904 and incorporated as the Henry River Manufacturing company, the village has approximately 35 houses rented inexpensively to employees of the mill.
To bridge the transition from an agrarian culture to one of industry, each house had enough ground for a garden and to keep a few chickens and other farm animals.
What the owners created is a believable facsimile of the farm house the mill workers grew up in, therefore, giving them comfort in changing times.
Most of the workers knew that farming and country life was hard; what a hailstorm could do to a field of tobacco; what an abundant corn crop did to corn prices. However, the pay envelope from the mill came every week without fail, so the workers owned the best of both worlds, creating their "seeing what they want to see," the title and emphasis of the book.
Please contact Robert Canipe at rcanipe@cvcc.edu to reserve a copy of the limited hardcover run at $29.95.
"Polio, Pitchforks and Perseverance"
How a North Carolina County Named Catawba Built a 'Miracle'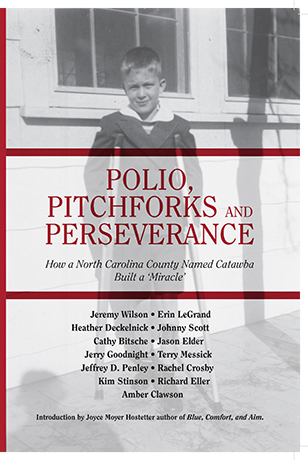 Polio, Pitchforks and Perseverance is a study of a 'miracle,' a look into a battle fought immediately post World War ii where a small community gathered together to fight an insidious nemesis similar those in the European and Pacific theaters...
Fourteen essays from a variety of disciplines cover the 1944 battle including essays on the time period, the disease poliomyelitis, the legal ramifications, personal interviews with survivors of the battle and a history and the creation of the Polio emergency hospital—the Miracle—in Hickory by the residents of Catawba County.
Essays by Jeremy Wilson, Erin LeGrand, Heather Deckelnick, Johnny Scott, Cathy Bitsche and Jason Elder, Jerry Goodnight, Terry Messick, Jeffrey D. Penley, Rachel Crosby, Kim Stinson, Richard Eller, and Amber Clawson; edited by Richard Eller and Robert T Canipe.
Get your copy of Polio, Pitchforks, and Perseverance: How a North Carolina County Named Catawba Built a Miracle at the CVCC Bookstore or as an eBook in Kindle format from Amazon.com.
Book by Richard Eller (Author), Robert T Canipe (Editor), Joyce Moyer Hostetter (Introduction), Jeremy Wilson (Contributor), Erin LeGrand (Contributor), Heather Deckelnick (Contributor), Johnny Scott (Contributor), Cathy Bitsche (Contributor), Jason Elder (Contributor), Jerry Goodnight (Contributor), Terry Messick (Contributor), Jeffrey D. Penley (Contributor), Rachel Crosby (Contributor), Kim Stinson (Contributor), Amber Clawson (Contributor)
Introduction by Joyce Moyer Hostetter author of Blue, Comfort, and Aim.
This is a Redhawk Publication published by Catawba Valley Community College as part of an effort to display the artistic output of students, staff, faculty, and community.
Sanctuary - 2018
by CVCC et al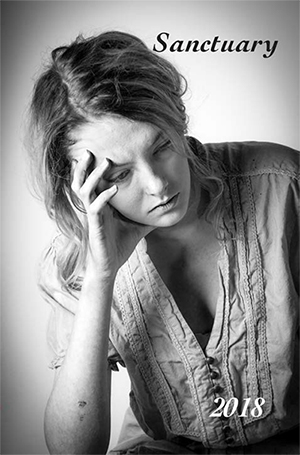 Sanctuary: "noun. a place of refuge or safety" "Fourteen students from Catawba Valley Community College present their most heartfelt and creative works of art, placed in this place of refuge and safety, the 2018 edition of Sanctuary." "Poetry and Prose, Photography and Paint, these demiurgic and gifted folk hope that you enjoy this endeavor and that your reading enlightens and teaches and lessens the pain that is your existence. Art: A place of refuge and safety. Welcome.
Author: Chris Seelman
Introduction to Ethics - Philosophy 240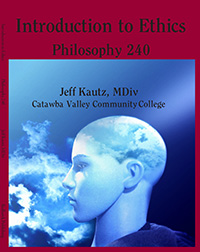 PHI 240: INTRODUCTION TO ETHICS (Coll/Tran) COURSE DESCRIPTION This course introduces theories about the nature and foundations of moral judgments and applications to contemporary moral issues. Emphasis is placed on utilitarianism, rule-based ethics, existentialism, relativism versus objectivism, and egoism. Upon completion, students should be able to apply various ethical theories to individual moral issues such as euthanasia, abortion, crime and punishment, and justice. Primary sources are examined to better understand the background of ethical theories. Prerequisites: ENG 111 Corequisites: NONE Class Hours: 3 Lab Hours: 0 Clinical/Work Exp.: 0 Credit Hours: 3 STUDENT LEARNING OUTCOMES Define and discuss moral and ethical theory concerning social policy and issues within their lives. Read and analyze case studies that apply ethical theory and concepts. Develop a strategy for making decisions in ethical conflicts. Explore and discuss boundaries considered beyond the obligations of moral domain. Explore differences between a scientific and technological worldview, and a natural worldview. Summarize the contributions of historically important figures (such as J.S. Mill and Immanuel Kant) to ethical thought.
Author: Jeff Kautz, MDiv
Catawba Valley Community College
English 111- Write It Right!
Hate Writing Less in 16 Weeks or Fewer!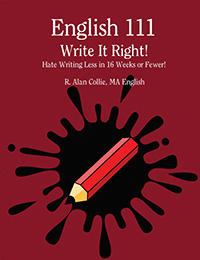 This course is designed to develop the ability to produce clear writing in a variety of genres and formats using a recursive process. Emphasis includes inquiry, analysis, effective use of rhetorical strategies, thesis development, audience awareness and revision. Upon completion, students should be able to produce unified, coherent, well-developed essays using standard written English.
Author: R. Alan Collie, MA English
EGR-110 - Introduction to Engineering Technology
Author: Ronald J. Chownyk, BSEE and Donna R. Youk, ASCET, ASEET
Learning Critical Thinking Through Astronomy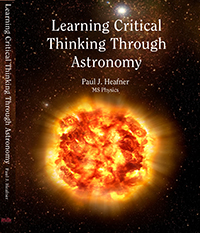 Author: Paul J. Heafner, MS Physics
Contact Information
English Instructor/Editor-in-Chief Redhawk Publishing
English
Email: Robert Canipe
Phone: 828-327-7000 x4380
Office Number: VSL 204B