2018 Guy Hollar Scholarships
Members of Catawba Valley Community College's Guy Hollar Memorial Golf Tournament Committee recently presented scholarships to three Turfgrass Management students totaling $4,000.
01/03/2019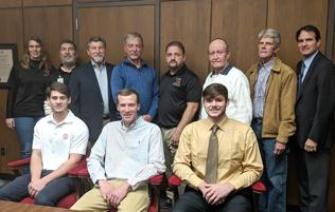 Daniel Charles McCoy of Catawba received a $2,000 scholarship to help complete his associate degree at Catawba Valley Community College (Hickory, N.C.). Robert "Jared" Rogers of Marshall received a $1,500 scholarship and Kevyn Wayne Towery of Hickory received a $500 scholarship.  
"We are grateful for the legacy that our dedicated turfgrass alumni have established with this scholarship that helps meet the growing need for a skilled workforce in the green industry," said Gary Muller, Dean of the School of Business, Industry & Technology. "All three recipients have promising career opportunities that could potentially take them across the country--even the world--if they desire."
McCoy is a native of Catawba County, N.C., and graduated from Bandys High School. His family operated a small farm and he always enjoyed working outdoors. However, he was inspired to pursue an education and career in the green industry when he toured CVCC's Turfgrass Program as an eighth grader.  
Rogers grew up in Marshall, N.C., and graduated from Madison High School. As a young man, he operated his own yard mowing business. That love of working outdoors led him to CVCC's Turfgrass Program where he interned at Chicago Golf Club in Wheaton, Ill., and Primland Resort in Meadows of Dan, Va. These experiences solidified his career path in the golf/turf industry.
Towery is a native of Hickory, N.C., and graduated from St. Stephens High School. After the first three months working in course maintenance at Glen Oaks Golf Club in Maiden, N.C., he developed a passion for golf course management. As a student at CVCC, he interned at Dataw Island Club in Saint Helena Island, S.C., and currently works as assistant superintendent work at Catawba Country Club in Hickory, N.C. He has been offered an assistant superintendent position at Dataw Island Club after graduation in May.
Proceeds from the annual Guy Hollar Memorial Golf Tournament held at Rock Barn Golf Club in Conover, N.C., fund the scholarships. The annual tournament is organized and conducted entirely by CVCC alumni.  
Tournament sponsors include JRM, Inc., Revels Turf & Tractor, Smith Turf & Tractor, Tri-State Pump & Control.
Guy Hollar was among the first graduates in 1972 of (then) Catawba Valley Technical Institute's Recreational Grounds Management degree and served as Rock Barn (Conover, N.C.) golf course director of grounds for many years. Hollar fought a courageous battle against leukemia before his death in 2008.
For more information about the 2019 Guy Hollar Memorial Golf Tournament set for April 23 at Rock Barn Country Club, contact Gerry Millholen, tournament chair and CVCC Turf Alumnus,
boats531@gmail.com, 828-455-2284, or Mary Reynolds, CVCC Alumni Affairs Director, 828-327-7000, ext. 4387, mreynolds@cvcc.edu.
# # #