Sutter Street Gift to Furniture Academy Offices
Sutter Street Manufacturing, a wholly owned subsidiary of Williams-Sonoma, recently donated several suites of its Pottery Barn brand office furniture to the CVCC Foundation, Inc. The furniture is for use by the Catawba Valley Furniture Academy in its conference room and staff offices.
01/04/2019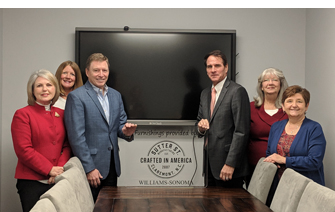 Darryl Webster, Senior Vice President of Sutter Street's Claremont, N.C.-based operation, recently presented the collection to the college in appreciation for the college's partnership. 
"We were challenged as we expanded our furniture production in Claremont," said Webster. "We were having trouble finding talent to meet our company's high quality standards. From the first conversations with CVCC and its staff, they were extremely helpful in designing a program that brought solutions to the table."
The first group of Sutter Street University students training at the Catawba Valley Furniture Academy are graduating this month.
"They have made an investment in their future by learning new skills, and we are eager to promote them to upholsterers and sewers," said Webster. "One student said he had been waiting five years for the opportunity to learn upholstering. That's the kind of loyal associates we want to retain and promote. He has made a big investment in us, and we don't plan on letting him down."
The second class to begin learning the fine art of furniture manufacturing through Sutter Street University at the Academy are on track to start in March. 
The CVCC Foundation, Inc. is a nonprofit corporation with the mission to foster and promote the growth, progress, and general welfare of CVCC. Contact Teresa W. Biggs, CVCC Foundation Executive Director, for additional information at 828-327-7000, ext. 4288, or tbiggs@cvcc.edu.
# # #