Spring Students of the Semester
Spring-Students-of-the-Semester
Catawba Valley Community College students Holly Cable, Alexis Dimetry, Melissa Mooney and Abigail Qurollo were recently named Students of the Semester.
02/12/2019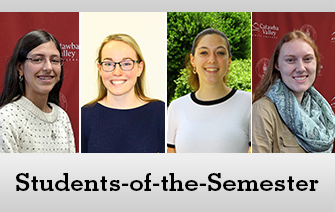 Up to four students are nominated for this award during each academic year. Students are recognized for their academic achievements, school leadership and community involvement. They also receive gift certificates to be used in the Campus Store.
Cable is enrolled in the Challenger Early College High School at CVCC and will graduate this May with her diploma and Associate of Science degree. She is president of Phi Theta Kappa International Honor Society. She works at Foothills Gymnastics as a recreational gymnastics coach and volunteers at Blackburn Elementary School and the Catawba County Youth Council. She is the daughter of William and Amy Cable.
Dimetry will graduate this May with an Associate in Science degree and she plans to further her education to pursue a career in chemistry. She has been named to the High Honors List, is a member of Phi Theta Kappa International Honor Society and president of the Chemistry Club. Dimetry volunteers with CVCC's Celebration of Nations and Science Olympiad. She also volunteers with the Hickory Soup Kitchen and Operation Christmas Child. A homeschooled student, she is one of eight children of Melissa and Basem Dimetry.
Mooney is enrolled in the Photographic Technology associate degree program and expects to graduate in 2020. She also earned an associate degree in Advertising & Graphic Design at CVCC last year. She has been an active member of the college's SkillsUSA chapter winning a gold medal in entrepreneurship in 2018 and a silver medal in 2017. She also serves as chapter vice president. Mooney completed CVCC's Student Leadership Academy and was selected to participate in the N.C. Community College Student Leadership Program. She serves as secretary of CVCC's Phi Theta Kappa International Honor Society chapter and was named to the High Honors List. Mooney is a part-time graphic designer for the City of Hickory and interned at MDI and YU Apparel.
Quorollo is enrolled in the Emergency Medical Science (paramedic) associate degree program and will graduate in May. She graduated from Abundant Life Christian Academy and was active in 4H. She earned an Associate in Science degree at Western Piedmont Community College. She was elected president of CVCC's Student Government Association. She works for Burke County Emergency Management Service as an EMT. 
# # #