Student Portfolio Show 2017
The Hickory Museum of Art will host Catawba Valley Community College's Student Art Show on Tues., April 25, from 11 a.m. to 2 p.m. and 4 to 7 p.m. throughout the museum's galleries.
04/24/2017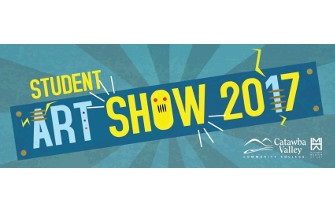 Work by graduating Photographic Technology and Advertising & Graphic Design associate degree students will be on display. The exhibit is open to the general public; light refreshments will be served.
CVCC's Photographic Technology program teaches students the basics of camera operation, lighting, photographic process and digital imaging. These basics lead students to a career, including commercial photography, fine art photography, portrait photography or photojournalism.
CVCC's Advertising and Graphic Design program provides training necessary for the graphic design profession, which emphasizes design, advertising, illustration and digital and multimedia preparation of printed and electronic promotional materials.
Students showcasing in the 2017 CVCC Student Art Show are:
Advertising and Graphic Design:
Linda Chang, Mount Gilead, NC
Debbie Hefner, Rhodhiss, NC
Sierra Kelso, Bay City, TX
Matthew Lee, Taylorsville, NC
Alex Lor, Hickory, NC
Phengkee Xiong, Claremont, NC
Photographic Technology:
Shawna Huffman, Anderson, IN
Brittany Keener, Lincolnton, NC
Shelby Summerow, Connelly Springs, NC
Nicole Webb, Taylorsville, NC
For more information about CVCC Student Art Show at the Hickory Museum of Art, contact Jennifer Cobb, Advertising and Graphic Design department head, 828-327-7000, ext. 4020, or Joe Young, Photographic Technology department head, 828-327-7000, ext. 4467, jyoung@cvcc.edu.
# # #