Small Business Center Receives State Award
Catawba Valley Community College's Small Business Center Director Jeff Neuville recently received the N.C. Small Business Center Network Innovation Award for Services/Collaboration for the 2017-18 fiscal year. The award was presented at the NC Small Business Center Professional Development Conference in Concord.
11/30/2018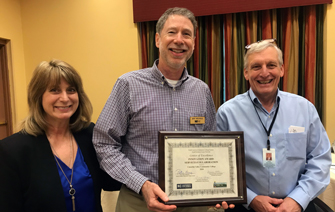 The Innovation Award for Services/Collaboration recognizes the Small Business Center director and staff that have shown innovation related to counseling, new services, partnerships and collaborations.
Neuville and the CVCC Small Business Center received the award for its efforts developing the Student Entrepreneurship Pipeline, an intentional series of steps to introduce local high school and CVCC students to the concepts of entrepreneurship and business creation.
The Student Entrepreneurship Pipeline directs and mentors students in CVCC's Entrepreneurship Tour, the CVCC Shark Tank program, and the Students with Attainable Goal (SWAG) program. Participants are groomed to participate in SkillsUSA competitions that have resulted in a number of national entrepreneurship championships.
# # #