Next Top Model Contest Winners Announced
In an age of "selfies," Catawba Valley Community College's Photographic Technology Club recently showcased their professional photography skills in "CVCC's Next Top Model" contest.
12/15/2017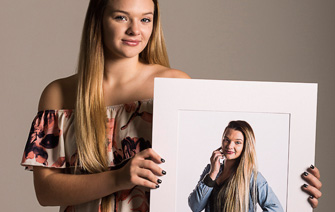 Nearly 50 students initially signed up for the contest. Club officers narrowed down the field to six finalists. Photography students gained valuable experience working with the contestants in a fun contest that helped them sharpen their skills.
The winner is Katelyn Hearn of Taylorsville, who attends Challenger Early College High School. She won a package of professional portraits valued at $200. She received a matted 11" x 14" print of her portrait and one full professional photography session that comes with a complementary app of her photos.
Runners up are Cheyenne Chumley of Taylorsville and Danielle Tensley of Hickory. They, along with every contestant, received complimentary digital copies of their competition images.
Photography students advised the contestants on clothing choices and hair and make-up suited for their skin. Students also created the sets and posed the models.
A panel of Photographic Technology faculty selected the top three final images. CVCC President Dr. Garrett D. Hinshaw selected the winning image.
Graduates of CVCC's Photographic Technology associate degree have lots of career options. Some pursue photojournalism while others go into studio photography. Some specialize in food, aerial, furniture, police, medical or scientific photography. Many graduates have started their own business or transitioned to other related fields, such as public relations or equipment sales.
For more information about CVCC's Photographic Technology associate degree, contact Joe Young, jyoung@cvcc.edu.
# # #