Magic Wheelchair Flying Car
Catawba Valley Community College Visual Art Program Director Jeff Kiefer recently built a Harry Potter Flying Car costume for a wheelchair bound child revealed at N.C. Comicon in Raleigh.
03/22/2019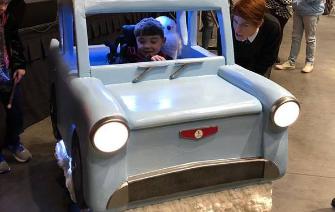 The project was created under the auspices of Magic Wheelchair, a nonprofit that partners with local communities to create these unique costumes. Magic Wheelchair reached out to well-known sculptor and CVCC faculty member Kiefer about Ian, a six-year old from Winston-Salem, N.C., who needed a costume.
Ian is a big Harry Potter fan, so Kiefer created a hard Styrofoam frame similar to Harry Potter's Flying Car. The "costume" features working headlights, an "invisibility cloak" and ejection buttons, custom decals and license plate reading "Ian's Car." The car rests on an illuminated cloud.
# # #