Leader Talks: Our Community's Continuing Battle with Covid -19
Leader Talks: Series 6
Please Join Higher Education Leaders on steps they are taking to safely open their institutions this Fall. This free live WebEx event will be held Tuesday, August 4th at 11:30 AM.  Registration is required.
07/29/2020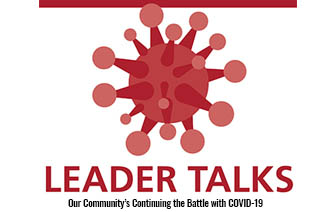 Series Six-  Higher Education Opens Safely 
Free WebEx Event – Tuesday, August 4 at 11:30 AM
In the sixth of our Leader Talks – Higher Education Opens Safely hear from the Presidents of our area colleges and university on steps they are taking to safely open their institutions this fall.
Additionally each President will share their thoughts on the unique challenges facing higher education in this new normal with Covid – 19.
Speakers:
Dr. Garrett Hinshaw, President - Catawba Valley Community College
Dr. Frederick Whitt, President - Lenoir-Rhyne University
Dr. Mark Poarch,  President - Caldwell Community College & Technical Institute
Please register below and join us on Tuesday, August 4th.

There is no charge to participate in this WebEx event, however pre-registration is required. Please Register Here at CVCC or go to the K-64 websites to register.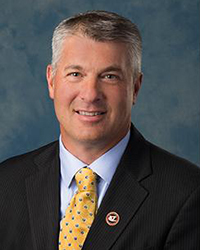 Dr. Garrett D. Hinshaw - "The one core value on our campuses that must remain consistent in today's global economy is our passion and commitment to improve the lives of the people we serve. With an entrepreneurial mindset, we must continuously strive to remain relevant for the workforce and provide access for transfer to four-year colleges and universities. Our focus has transitioned from one of maintaining to one of being a catalyst in our community through intentional actions that lead to a positive return on investment for our stakeholders and our college."
"Creating the best community college in America" were the first words spoken to faculty and staff upon the arrival of the third president of Catawba Valley Community College in the fall of 2006. Since his arrival, he has begun the process of demonstrating that these aren't just words through the development of innovative partnerships that get things done. Recently, CVCC was named the #1 Community College in North Carolina by NICHE and the #3 community college in the country by two independent groups, Smartasset, Studentloanhero, and has most recently been invited to compete for the prestigious Aspen Award. Under the leadership of Dr. Hinshaw and "disruption of the comfortable:"
CVCC has increased external resources through innovative revenue strategies, fundraising, grants, and additional state and local support; 
Was selected as one of only three colleges nationwide to serve as a pilot for entrepreneurial growth by the Ewing Marion Kauffman Foundation; 
Has restructured and expanded the Manufacturing Solutions Center (MSC) and led the transition of the Center to a research and development operation including a business incubator; 
Has opened the 28,000 sq. ft. CVCC ValleySim Hospital (the largest healthcare simulation environment east of the Mississippi), 
Has created the Corporate Development Center to serve business and industry in the region, and most recently opened the state of the art 86,000 sq.ft. Workforce Solutions Complex focused on future talent development. CVCC also established the Catawba Valley Furniture Academy, Manufacturing Academy, Construction Academy and Coding Academy to meet the direct workforce needs of our region. The college has created a new image in the community and has positioned itself as a leader in redefining the region's economy. Dr. Hinshaw believes that CVCC has a responsibility to do everything it can make the Catawba Valley Region a great place to live, learn, work and play.
Education:
Doctorate Degree from NC State University in Higher Education Administration.
Bachelor's and Master's degrees from Appalachian State University where he was an All Southern Conference and All Atlantic Region Baseball player.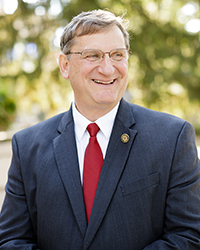 Dr. Frederick (Fred) K. Whitt is Lenoir-Rhyne University's 12th President.
Dr. Whitt began his tenure at Lenoir-Rhyne (LR) in 2017 and has over 30 years of successful leadership experience in higher education at both private and public universities. Previously, Dr. Whitt served as Founding Dean of the Beaver College of Health Sciences (BCHS) at his alma mater, Appalachian State University. He has served as Dean from 2010-2017 when he was appointed to lead the development of the first new college at Appalachian State in over 40 years. Dr. Whitt's visionary leadership, passion for excellence, commitment for creating a collaborative culture, and development of significant community partnerships are credited for the success he has achieved at Appalachian State.
In Dr. Whitt's first three years at Lenoir-Rhyne, enrollment has seen record growth and two capital projects have been completed and fully funded by private donations. Lenoir-Rhyne is in the first year a five year Strategic Plan "Pivoting to a New Level of Excellence". This plan involves all three campus locations as well as faculty, staff and students and will shape the future for LR.
Dr. Whitt earned his Doctorate from the University of Tennessee, and his Master or Arts and Bachelor of Science degrees from Appalachian State. Prior to joining Appalachian State, he served as Dean of the College of Health and Human Sciences at Georgia Southern University from 1992 to 2010.
A native of NC, Dr. Whitt grew up in Mt. Holly about 40 miles south of Hickory. His wife, Donna, is also a NC native and now is a retired Nurse Educator. They have been married for 42 years and are the proud parents of two adult married sons. In his spare time, Dr. Whitt enjoys landscaping and yard work, music, the arts, following college sports, and spending time with family.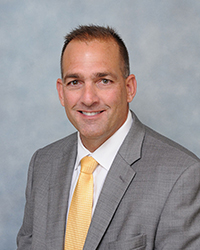 Dr. Mark Poarch named as the fourth president of Caldwell Community College and Technical Institute in July 2016, he has 28 years of community college experience. His 10 years at CCC&TI prior to being named president includes serving as Associate Vice President of Student Services, Vice President of Student Services and Executive Vice President. As Executive Vice President, Dr. Poarch served as the Chief Operating and Academic Officer for the institution, managing all internal operations of the multicampus institution including the strategic plan, instructional programming, student services, information technology, facilities, institutional effectiveness, grant activities, budget, enrollment trends and the accreditation process. His career in higher education began as an admissions counselor and assistant baseball coach at Brevard College and later at nearby Catawba Valley Community College, where he served in various roles.
Dr. Poarch earned his Doctor of Education and Education Specialist degrees at Appalachian
State University, and his Master Degree of Arts in Education and Bachelor Degree of Science
in Business Administration at Western Carolina University. He is a graduate of West Caldwell
High School where he was also a baseball and football standout. Dr. Poarch was inducted
into the Caldwell County Sports Hall of Fame in 2012 for his high school and college athletic
achievements. He is an active member and serves as Deacon at Meadowbrook Baptist Church
in Lenoir.
Dr. Mark Poarch and wife, Tracy, reside in Hudson and have three children, Dylan, Bailey and
Carly
A series of Talks brought to you by Catawba Valley Community College, K-64, and the Chamber.  
For more information on the "Leader Talks" event, contact Keith Sipe, director of Business & Industry Services, at bsipe498@cvcc.edu.
# # #