Dental Hygiene Volunteers with NCMOM
The college's dental hygiene program recently capitalized on two public service opportunities. First and second-year students volunteered their time and oral hygiene knowledge for the welfare of the locally underserved community.
11/17/2017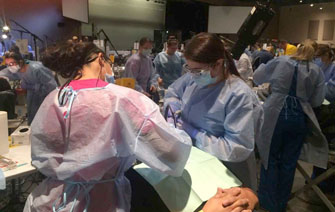 First-year students participated in the Centro Latino's Health and Wellness Fair. They distributed informational material on the importance of dental treatment and the services offered by the CVCC dental hygiene clinic to members of the Hispanic/Latino community.
Second-year students volunteered in the North Carolina Missions of Mercy Clinic held in Gastonia, N.C. The clinic offers free basic dental treatment to those individuals who show financial need and have few or no other options for care. Dental cleanings were provided to members of the public that attended this event free of charge on a first-come, first-serve basis.  
 
For more information about services offered and cost, please contact CVCC's Dental Hygiene Clinic at (828) 624-5258 or visit https://goo.gl/t1hgo4.
# # #