Chick-Fil-A Supports SkillsUSA Chapter
Catawba Valley Community College's SkillsUSA chapter recently recognized the financial support of Chick-Fil-A South Hickory operator James Goeway.
02/16/2018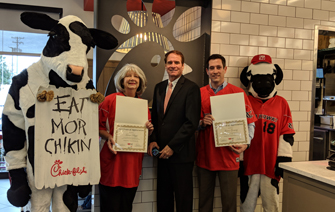 Financial underwriting by Goeway has made it possible for the college's SkillsUSA chapter to win the state Entrepreneurship competition and silver medal in the national competition last year.
CVCC's SkillsUSA team has brought home national championships in the Entrepreneurship competition four out of the past five years. The chapter has also earned numerous top ten placements in many other categories at state and national competitions during the past 10 years.
The purpose of SkillsUSA is to help prepare America's high performance workers for career and technical programs. SkillsUSA is a partnership of students, teachers and industry working together to ensure America has a skilled workforce.
CVCC's SkillsUSA Program is funded through the generosity of the CVCC Foundation, Inc. For more information about CVCC's SkillsUSA team, contact Gary Muller at 828-327-7000, ext. 4672, or email gmuller@cvcc.edu.
Pictured flanked by the Chick-Fil-A cows are (from left) Teresa Biggs, CVCC Foundation, Inc., executive director; Gary Muller, Dean of CVCC's School of Business, Industry & Technology; and James Goeway, operator of Chick-Fil-A South Hickory located on US Hwy. 70 SE.
 
# # #