Catawba Valley Faculty Member Earns Specialized Metalworking Credential
11/25/2019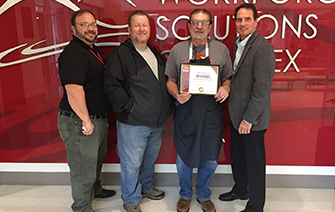 Jim Kondas, Computer Integrated Machining Technology Faculty Member at Catawba Valley Community College, recently earned the Certificate of Special Merit by the National Institute of Metalworking Skills (NIMS).
Kondas earned this credential based on demonstration of his technical skills that meet industry established standards. The NIMS credentials are the metalworking industry's only skills certificate that are based on standards developed under procedures accredited by the American National Standards Institute.
Over 155,000 credentials have been issued in precision metalworking and industrial maintenance disciplines.
Upon successful completion of seven NIMS Level I Credentials, candidates may be awarded the NIMS Certificate of Special Merit. Only 1.2 percent of NIMS credentialing candidates have earned the certificate.
Kondas has served as a tool and die maker for 54 years. He currently holds NIMS credentials in Measurement Materials and Safety, Job Planning, Benchwork, and Layout, Grinding I, Milling I, Turning I (chucking), CNC Mill Operations, and CNC Lathe Operations.
NIMS requires accredited educational programs to have credentialed instructors in order for the program to provide structured training programs that use NIMS standards as a baseline for developing curriculum, then utilize NIMS credentials as a national, industry-recognized validation of training competencies.
Together, Catawba Valley Computer Integrated Machining faculty members and staff hold a total of 27 NIMS credentials as they are preparing for their NIMS accreditation in spring 2020.
For more information about the college's Computer Integrated Machining program, contact Steven Rhoads, (828) 327-7000 ext. 4713, srhoads@cvcc.edu.
# # #