CVCC Student Penalver Named NC State Goodnight Scholars Finalist
Catawba Valley Community College sophomore student David Penalver was recently named one of 41 finalists for the Goodnight Scholars Program at N.C. State University.
06/02/2020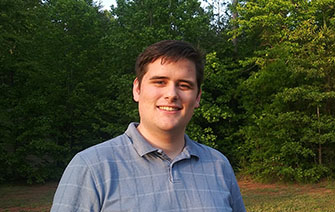 Catawba Valley Community College sophomore student David Penalver was recently named one of 41 finalists for the Goodnight Scholars Program at NC State University.
A Maiden, NC native, Penalver was selected as a finalist from a pool of 297 transfer candidates from 21 community colleges and 24 counties across North Carolina. Candidates were evaluated by a committee consisting of current and former N.C. State faculty, staff and alumni, representatives from the SAS Institute and the Kenan Fellows Program.
This committee looked at each candidate and their community college accomplishments, including academic achievement, extracurricular involvement, community engagement and inspiring goals for success in STEM and education.
The Goodnight Scholars program provides 20 incoming freshmen and transfer students from lower-to-middle class income families who are pursuing either a STEM or teaching major at N.C. State University an annual scholarship of approximately $24,000 for three school years.
The main goal of the Goodnight Scholars program is to provide their members with various professional development and public outreach opportunities. These range from one-on-one interviews and resume help to going on a trip promoting various STEM topics at middle schools across the state. 
"When I first heard what the Goodnight Scholars program was about, I was impressed," said Penalver, who is finishing his Associates in Engineering degree this summer at CVCC and will be studying Aerospace Engineering at NC State starting this fall. "Their goal of focusing on helping impoverished students become important figures within and around NC State while giving them access to resources they might never have had access to is such a great cause. I am genuinely glad such a program exists and hope that it will continue to help students for years to come."
As one of only 297 transfer students invited to apply for the program, Penalver submitted two additional applications on top of his standard application to NC State. Those applications included writing three to four 500-word essays for the generic scholarship application and an 800-word essay for the Goodnight Scholarship program.
"I spent the better part of two weeks writing those essays," Penalver said. "I attended all of my classes at CVCC, but when I wasn't in class, I was working on those essays."
That hard work and dedication paid off for Penalver, who earned a spot as one of 41 finalists for the Goodnight Scholarship program — advancing him to the next stage.
Penalver participated in a virtual interview at the end of the April to determine if he would be one of 20 students invited to join the Transfer Class of 2023. This interview was originally scheduled to be held at NC State, but due to COVID-19 it was changed to an online format. 
This would mark the first time that Penalver had participated in an interview, and he prepared the best that he could.
"I didn't know what to expect or how to prepare, and I largely relied on marginally helpful interview tip websites," he said. "I did practice participating in an interview by live streaming to an audience of around 250 random people who asked questions and gave substantial amounts of feedback, which ended up being the most informative and encouraging thing I could have done. The interview came and went surprisingly smoothly for a first interview, but I was certain I wasn't going to be selected. By the following week, I got the email stating they were glad I applied, but were unable to offer me the award."
Although he was not selected as one of the scholarship winners, being named a finalist and being able to go through the interview process were achievements that Penalver is extremely proud of.
"Overall, I am glad to have had the ability to apply," he said. "I was, of course, disappointed when the word came that they couldn't award me the scholarship, but by that time, I was already glad to have the experience. For me personally, applying to the Goodnight Scholars program and being a part of that interview have been invaluable learning experiences."
# # #