CVCC Plush Kutz to Offer Barbering Courses
Catawba Valley Community College announces a partnership with local business Plush Kutz to offer barbering courses starting this fall.
08/27/2020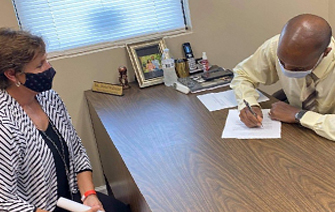 Catawba Valley Community College announces a partnership with local business Plush Kutz to offer barbering courses starting this fall.
Offered as short-term continuing education training, the barbering course will teach students to professionally style and cut men's and women's hair of all types. Students will learn about the implements and tools used in barbering, shaving, chemical services, skin treatment and the business aspect of barbering. 
"We are extremely excited to partner with David Williams and Plush Kutz to expand career opportunities for our young people with a variety of choices for successful futures in our community," said CVCC President Dr. Garrett Hinshaw.
Plush Kutz, which is located 523 U.S. Hwy 70 SW in Hickory, has been in existence since 2001, providing high-quality products and services to its customers.
The Plush Kutz Barber College is located at 3248 20th Avenue SE in Newton and a part of the city of Hickory limits. Registration for barbering students will start on Sept. 14.
David Williams, who owns Plush Kutz and also serves on the North Carolina Board of Barber Examiners, is thrilled about the partnership between his business and Catawba Valley Community College and what it exactly means to the community.
"I'm very grateful and excited about the partnership between Plush Kutz and CVCC," said Williams, who also serves as a councilman for the city of Hickory. "Our partnership makes Plush Kutz Barber College very affordable for students that normally wouldn't have had a chance to enter a barbering program. For CVCC, it adds on to the many excellent programs that they currently offer. It's also a great opportunity for our community as we are offering job training that will allow graduates to have a career with sustainable income in an ever growing industry that will allow them to provide for their families. It's a win-win situation, and I want to thank Dr. Garrett Hinshaw, Robin Ross, Nimon Badgley and everyone involved in making this partnership happen."
Upon graduating, the barbering program students will be licensed by the state of North Carolina to be professional barbers in any barbershop in our great state.
"We are extremely excited for the opportunity to partner with a local business partner to offer barbering training to the community," said Robin Ross, Dean, School of Health and Public Services. "This joint venture will allow us to provide affordable, short term job training that can lead to great employment opportunities for any individual interested in this field. We look forward to working with Plush Kutz Barbering College and Mr. David Williams to offer this training opportunity to our community."
For more information on the barbering courses, please contact Donna Davis at (828) 327-7000, ext. 4319.
# # #