CVCC Hosts Shark Tank Event for Students, Announces Winners
11/25/2019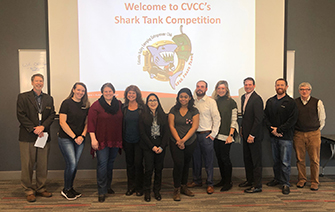 Catawba Valley Community College (CVCC) held its Fall Shark Tank Competition for CVCC students on November 20 at CVCC's Workforce Solutions Complex, with students presenting and pitching their business ideas to a panel of judges. 
The first place winner was Aylin Mendoza-Perez, who pitched her Pocket LP idea.  Second place went to Nancy Smith Gregory for her Grace and Gumption Wellness Options business idea. The third place winner was Vince Bryant for his Out Loud App pitch. 
Other Shark Tank finalists included Mikaylen Redmon, McKalia Sain, Laura Wilkinson, and Natasha Wilson. 
The competition provides students with the opportunity to pitch a business idea to a panel of business leaders, promoting entrepreneurship and the potential for small business ownership to local students. Judges for the event included Landon Lane with the L.B. Lane Family Foundation, Lindsay Keisler with the Catawba County Chamber of Commerce, and Rex Benfield with Prodigy Voice and Data, LLC. 
A takeoff on the popular ABC reality show, CVCC's Shark Tank is sponsored by the L.B. Lane Family Foundation; Chick-fil-A South Hickory; Duke Energy, and the CVCC Foundation. The CVCC Chapter of SkillsUSA assists in coordinating and managing the event. 
CVCC will hold a spring Shark Tank competition for local high school students. Contact Jeff Neuville at jneuville@cvcc.edu or gmuller@cvcc.edu for more information. 
# # #