First Ever Days of Extraordinary Service a Bit Hit
Catawba Valley Community College employees recently took part in the first ever CVCC Day of Extraordinary Service (CVCC D.O.E.S.) event assisting local nonprofits, arts groups and public schools in Catawba and Alexander counties.
03/12/2019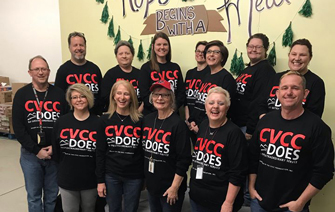 Held on a day when no classes were scheduled, more than 150 employees participated in activities at 26 different locations. Nearly 500 service hours were completed for community service projects like cleaning, painting, organizing, mulching, preparing and serving lunch, and many others.
The project came as an internal suggestion to the college's Professional Development Committee as a way for personnel to serve as external ambassadors of Red Hawk spirit. T-shirts were provided by the college and lunch was provided by the CVCC Foundation, Inc. Employee Savann Lombardi solicited project requests from local agencies and Rebecca Watts and Michael Boone assisted with coordinating volunteer assignments.
Volunteers served the following agencies:
Adult Life Programs-Conover Location
Adult Life Programs-Hickory Location
Alexander County Partnership for Children
Backpack Program of Catawba County
Banoak Elementary School
Catawba County Dept of Social Services-Family Builders
Catawba County Library System-Conover Branch
Catawba County Library System-Newton Branch
Connections/Catawba County Behavioral Healthcare
CVCC Adult Basic Education Academy
Family Care Center of Catawba Valley, Inc.
Greater Hickory Cooperative Christian Ministry
Habitat for Humanity of Alexander County
Habitat for Humanity of Catawba Valley-New Construction
Habitat for Humanity of Catawba Valley-Repair Crew
Hickory Community Theatre
Hickory Soup Kitchen
Historical Association of Catawba County
Humane Society of Alexander County
Humane Society of Catawba County-Hickory Location
Humane Society of Catawba County-Newton Location
Pregnancy Care Center of Catawba Valley
Resource Warehouse & Gallery
Rising Hope Farms
Riverbend Park
South Newton Elementary School
The Corner Table
# # #