BLET Cadets Graduate
Catawba Valley Community College recently honored graduates of its Basic Law Enforcement Training (BLET) program during a special ceremony.
03/15/2019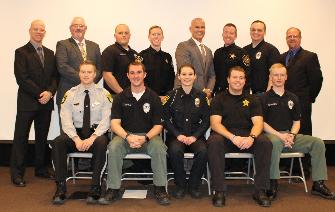 The BLET program is a 624-hour intensive course of study governed by the North Carolina Criminal Justice Education and Training Standards Commission. In addition, students must pass the state Basic Law Enforcement Certification examination to be eligible for employment as a police officer or deputy sheriff.  
Students who successfully completed all facets of training to become law enforcement officers are cadets Maddison Aaron, Tyler Burgess, Patrick Craig, Austin Hartsoe, Seth Hoyle, Jonathan Huffman, Jeremy Morrison, Ernest Scaglione and Andrew Towery.
Special guest speaker for the graduation ceremony was Tommy Norman, a longtime patrolman/officer with the North Little Rock (Ark.) Police Department. Norman has gained national and international attention for his community policing methods. He has been cited for his unconventional ways of connecting with inner city youth, in particular minority communities of color.
For more information or to apply for admission to CVCC's next BLET program starting August 1, contact Lemuel Martin, BLET Director, 828-327-7000 ext. 4583, or lsmartin@cvcc.edu.
# # #