Leader Talks: Area School Superintendents Discuss Opening Schools Safely
Leader Talks: Series Seven
Catawba Valley Community College's Workforce Development Innovation Center, the Chamber of Catawba County and K-64 continue their "Leader Talks" series with their seventh WebEx event on Tuesday, Aug. 11 at 11:30 AM
07/16/2020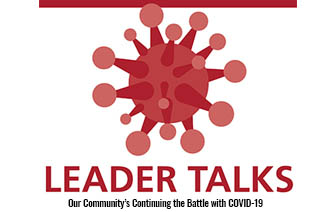 CVCC 'Leader Talks' event to focus on public schools opening safely
Catawba Valley Community College's Workforce Development Innovation Center, the Chamber of Catawba County and K-64 continue their "Leader Talks" series with their seventh WebEx event on Tuesday, August 11 at 11:30 AM.
In this seventh edition of Leader Talks entitled "Area School Superintendents Discuss Opening Schools Safely," hear from each local school superintendent on the steps they are taking to open their schools in the coming weeks.
Panelists for this WebEx event include Dr. Matthew Stover, Superintendent for Catawba County Schools; Dr. Robbie Adell, Superintendent for Hickory Public Schools; Dr. Aron Gabriel, Superintendent for Newton-Conover City Schools; and Dr. Jennifer Hefner, Superintendent for Alexander County Schools.
There is no charge to participate in this WebEx event. However, pre-registration is required. 
Register Here or you can also go through the K-64 website at www.k-64learning.com/our-events.

Speakers: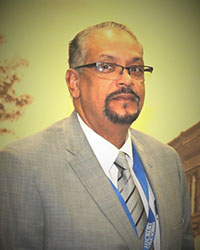 Dr. Robbie Adell joined Hickory Public Schools on September 14, 2015. A 36-year veteran with NC Public Schools, his dedicated career has included coaching, driving a school bus, and serving as a teacher in both middle and high schools.
A school administrator in Buncombe County prior to joining HPS as superintendent, Dr. Adell served as an assistant principal, principal, director, and assistant superintendent. Dr. Adell had additionally served as an adjunct professor at the University of the Cumberlands in Williamsburg, Kentucky since 2007.
A native of Asheville, Dr. Adell is known for his success in leading school academics achievement and growth with a vision for successful new concepts to meet the needs of the children. He is the first minority superintendent to serve Hickory Public Schools since the district was established in 1903.
Dr. Robbie Adell and his wife, Melody, are the parents of two daughters, with the oldest entering her senior year at UNC-Greensboro and the youngest entering her senior year at Hickory High.
When not working on "Return to Learn" re-entry plans for the new school year and meeting with his administrative team, Dr. Adell enjoys working on old cars and squeezing in a game of golf.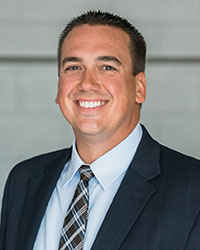 Dr. Matt Stover has a career in public education spanning more than 20 years in North Carolina. Prior to his role as superintendent for Catawba County Schools, he served as the associate superintendent of the Lincoln County Schools, working as a key member of the school system's administrative team in several areas, including safety and security, athletics, maintenance, capital and bond projects, facilities, contracts, and technology.
Dr. Stover earned a bachelor's degree in social studies education from Indiana University of Pennsylvania in Indiana. He also attended Gardner-Webb University in Boiling Springs, NC, where he obtained a master's degree in school administration in 2003 and a doctorate in education leadership in 2009.
Dr. Stover also served as the assistant superintendent of human resources for Lincoln County Schools from 2011-2013, where he led all aspects of human resources leadership and management for the school system. He was an assistant principal (2003-2007) and principal (2007-2011) for Lincoln County Schools and began his career in public education as a high school teacher and coach in Cleveland County. His guiding philosophy in education revolves around building relationships and finding ways of engaging students.
Dr. Stover resides in Newton with his wife, Melia, and their two sons, Josh and Will.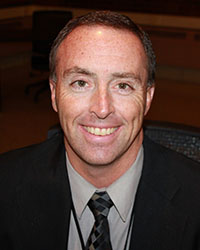 Aron Gabriel is a native of Catawba County. He attended Bandys High School where he lettered in three sports as a senior. He graduated from Bandys High School in 1992 and attended Montreat College on a basketball scholarship. Aron was a 4-year starter for the Cavaliers and finished his career as the all-time leading scorer in Montreat College history. He also finished his career as the holder of 20 school records, including most 3-point field goals in one game (11). Aron graduated Magna Cum Laude for Montreat College in 1996 with a BA in English Education. He was inducted into the Montreat College Athletics Hall of Fame in 2003. In May 2013, Aron earned his doctorate degree in Educational Leadership from Western Carolina University.
Aron taught English and coached JV and varsity boys basketball in East Lincoln High School and Bandys High School for the first seven years of his public education. Aron then spent two years as an assistant principal at Bandys High School and South Iredell High School before becoming a principal at Springs Academy in 2005. After four years as principal at Springs Academy, where he was named the Iredell-Statesville Schools Principal of the Year in 2008, and a one year stint as principal at Northview 1B School. Aron returned to South Iredell High School as principal. During his three years at South Iredell, the school had the highest academic growth for three consecutive years, as well as the highest Teacher Working Conditions Survey composite for three consecutive years among the district's eight high schools. South Iredell's football team also won a State 2AA Championship during his tenure as principal. Aron is in seventh year as part of the Newton-Conover City Schools. He spent five years as the associate superintendent before being named superintendent in August 2018. He just completed his second school year of service leading an amazing school system.
Aron resides in Conover, NC with his wife Mandy and his two sons, Trysten and Layton, both of whom attend schools in Newton-Conover. Aron acknowledges the blessings he has been given in life and sees service on the Hearts and Hope Foundation Board as a way to give back in honor and memory of those who have graciously shared with him.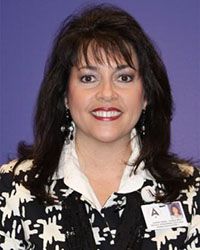 Dr. Jennifer Hefner was named the superintendent of Alexander County Schools effective August 1, 2014. She served as Acting Superintendent and later Interim Superintendent. Dr. Hefner was an associate superintendent from July 2012 to May 2014. She served as interim assistant superintendent from March 2012 until July 2012. She was a central office director over Elementary Curriculum, Student Services (K-12), Title 1 and has led the Common Core and Essential Standards Implementation. She was selected as the local, regional, and state Administrator of the Year for the North Carolina Association of Educational Office Professionals. She served as the principal at Bethlehem Elementary School for nine years and as assistant principal for one year. Dr. Hefner also served as Curriculum Specialist at Bethlehem. She taught math from 1993 to 1998 at Bethlehem and from 1996 to 1998 part-time at the Alternative Learning Program with Alexander Central High School. Her career in the school system began as a teacher assistant and bus driver at Sugar Loaf Elementary School.
Dr. Hefner completed her Doctorate in Educational Leadership from Appalachian State University.
She also holds an Educational Specialist Degree and a Master's in School Administration from Appalachian State University. She graduated Magna Cum Laude from Lenoir-Rhyne College with a Bachelor of Arts degree in Elementary Education. She attended Catawba Valley Community College in the Pre-liberal Arts program. She is a graduate of Alexander Central High School.
A series of Talks brought to you by Catawba Valley Community College, K-64, and the Chamber.  
For more information on the "Leader Talks" event, contact Keith Sipe, director of Business & Industry Services, at bsipe498@cvcc.edu.
# # #