Alumni Sponsored Golf Tournament Rescheduled to June 14
Catawba Valley Community College's Alumni Association will host the annual Guy Hollar Memorial Golf Tournament Thursday, at 11 a.m., June 14, at Rock Barn Country Club in Conover, NC.
05/17/2018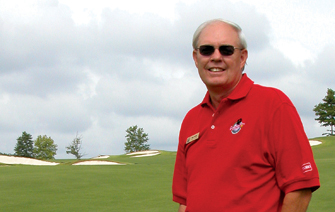 Golfers will play 18 holes on Rock Barn's famous Jones Course and registration includes lunch. A shot-gun start begins at 1 pm.
Proceeds from the tournament help fund scholarships for currently enrolled CVCC Turfgrass and Horticulture Technology students.
The tournament is sponsored by CVCC's Alumni Association and organized by classmates of Guy Hollar, the late Rock Barn Golf Course Director of Grounds.
Online player registration is available at www.cvcc.edu/GuyHollar.
For more information, contact Gerry Millholen (CVCC Turfgrass Class of '74) at 828-455-2284 or at boats531@gmail.com, or Mary Reynolds, CVCC Alumni Director, 828-327-7000 ext. 4387, mreynolds@cvcc.edu.
# # #