Alumni Awards Nominations Being Accepted
Catawba Valley Community College's Alumni Association is seeking nominations from the community for its 2018 Distinguished Alumni of the Year Awards. Alumni from each of CVCC's schools are eligible, including the School of Academics, Education & Fine Arts, the School of Business, Industry & Technology and the School of Health & Public Services.
01/11/2018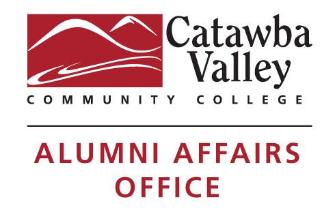 Deadline for nominations is February 10.
Alumni who have been awarded a degree, diploma or certificate or who have earned career credentials at CVCC may be nominated. Individuals who have brought distinction to themselves, credit to the college and genuine benefit to their communities in one or more of the following ways are eligible:
•  Exceptional accomplishment in their chosen field;
•  Exceptional service in local, state or national affairs; or
•  Exceptional service in support of Catawba Valley Community College.
•  Inspirational impact/transformational CVCC experience.
Mary Reynolds, director of the association, estimates that more than 100,000 students have earned an educational credential from CVCC since it opened in 1958, making up the very fabric of the community.
"The idea for an awards program came from our advisory group as a way to recognize the incredible achievements of alumni," said Reynolds. "I've heard it said that CVCC's presence is deep and wide. The same can be said for the positive impact our graduates have on our quality of life. You will be hard pressed to live a day without receiving—either directly or indirectly—the skills or expertise of a CVCC alum, whether that's at the doctor's office, in your home, or in some facet of your workplace."  
The CVCC Alumni Association awarded its inaugural Distinguished Alumni Awards during commencement last May.
Nominations for the 2018 awards can conveniently be made online at www.cvcc.edu/Alumni. The deadline to submit nominations is February 10. For more information, contact Mary M. Reynolds, Alumni Affairs Director, 828-327-7000 ext. 4387, mreynolds@cvcc.edu.
# # #