Alex Lee Gift Names WSC Conference Center
Alex-Lee Gift Names WSC Conference Center
The CVCC Foundation, Inc., recently received a significant gift from Alex Lee, Inc., parent company of Lowes Foods and MDI. To honor that gift, Catawba Valley Community College named the conference center in the new Workforce Solutions Complex the Lowes Foods | Alex Lee | MDI Conference Center.
03/25/2019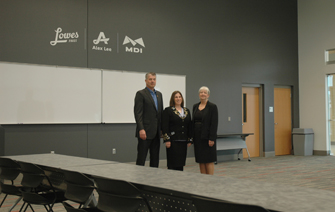 "This innovative facility is an example of the college's responsiveness to workforce training needs in our market," said Kimberly George, Vice President of Communications and Corporate Citizenship for Alex Lee, Inc. "The college looked carefully at existing as well as future needs of area industry and collaboratively developed a facility equipped to teach highly sought-after technical career skills. Alex Lee, Inc., proudly makes this lead gift in hopes that it will cultivate others like it."
The naming opportunity solidifies a growing relationship between the college and the private, Hickory-based company that focuses on supporting growth and growing the community.
"Incredible things are happening at CVCC with the support of champions like Alex Lee, Inc.," said CVCC President Garrett D. Hinshaw. "We are grateful for the company's confidence in CVCC's ability to meet workforce training needs."
Constructed with a floor to ceiling glass window that provides a scenic view of the entire college campus, the conference center can accommodate seating for up to 260 people. It is equipped with adjustable lighting, multiple oversized projection screens, overhead projector and sound system. A catering kitchen is conveniently located beside the center to allow for easy meal delivery when needed.
The mission of the CVCC Foundation, Inc. is to foster and promote the growth, progress, and welfare of CVCC. For more information on giving opportunities, contact Teresa Biggs, executive director of the CVCC Foundation, Inc., 828-327-7000, ext. 4288, tbiggs@cvcc.edu.
# # #